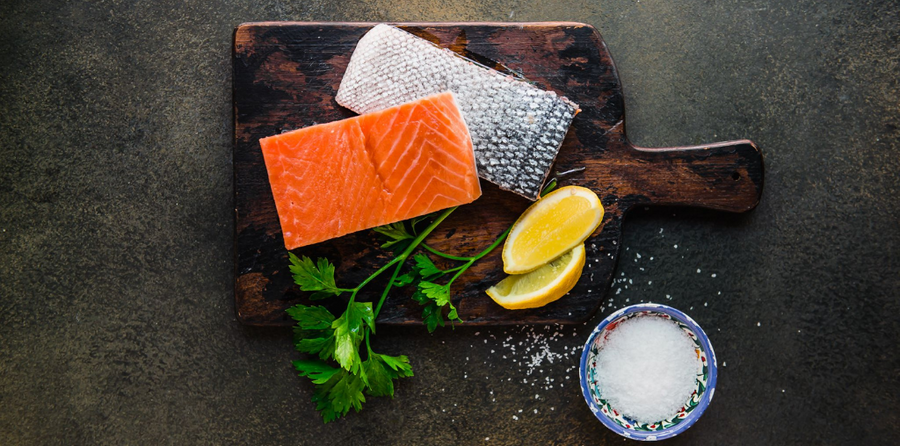 Salmon straight from the source
As a fishermen-owned cooperative, we take great pride in all our seafood. Our wild caught salmon, halibut, sablefish and albacore tuna are all great options for seafood fans. At the center of our wild seafood products is our line-caught, wild Alaskan salmon – a favorite among customers and fishermen alike.
Alaska is a model for sustainable fishing. This means that our Alaska Gold seafood is good for you and also good for the ocean. Biologists and policy makers work together to manage Alaska's fisheries with science-first principles that protect wild salmon populations. Fishing is also the heart of many southeast Alaska communities, like Sitka, where our co-op is based. Responsible fisheries management is crucial to protecting the ocean and the people who depend on it.
Line-caught, wild Alaskan salmon
Trolling for salmon also requires a tremendous amount of patience and a meticulous attention to detail. Our fishermen bring salmon onto the deck one fish at a time, quickly cleaning and icing the fish. As co-op member Lance Preston puts it, trolling for salmon is essentially "a boutique fishery." Where industrial fishermen are focused on quantity, our co-op fishermen emphasize quality. Our fishermen handle each fish with care, ensuring that the premium quality is preserved all the way from the Alaskan waters to your dinner table.
Just 12% of the salmon sold worldwide for food is wild Alaskan salmon. Of that wild Alaskan salmon, only 1.5% is line-caught. This means that our wild, line-caught Alaskan salmon is truly the best of the best. Our fishermen catch the very best king salmon, coho salmon and keta salmon – meaning you can enjoy wild Alaskan salmon delivered straight to your door.
Wild Alaskan King Salmon
Wild Alaskan Coho Salmon
Alongside our king salmon, our wild Alaskan coho salmon is another favorite among customers. Coho salmon, or Oncorhynchus kisutch, is bit milder and leaner compared to our king salmon, making it a versatile option that pairs well with a number of recipes. Try our coho salmon with green olive salsa or our Tuscan coho salmon, perfect for a hearty dinner. Our line-caught coho salmon is available in 5-pound, 10-pound, 20-pound or 30-pound boxes.
More than any fish we catch, coho salmon is the heart and soul of our region. Each summer coho salmon return to the thousands of tiny creeks that stream through the ancient trees of the Tongass Rain Forest, which makes up a good part of southeast Alaska. You can watch them jump up waterfalls, giving it their all, with the aim of returning to a little pool to spawn. Our fishermen catch each wild coho salmon one fish at a time on the ocean at their peak. Then they dress and ice each salmon to keep them in perfect condition until they reach our customers.
Wild Alaskan Keta Salmon
Another delicious Alaskan salmon option is our keta salmon, or Oncorhynchus keta. Fewer customers know about keta salmon, but it's a great option for those looking for a milder, more affordable alternative to king or coho salmon. Keta salmon is the mildest of all our salmon options, making it a favorite among new seafood consumers and families with kids. The mild flavor of our keta salmon shines when cooked with some spice or grilled with some simple seasonings. Try our line-caught, wild Alaskan keta salmon in this keta salmon curry.
Sharing Alaska's Salmon
Wild Alaskan salmon is one of the best, most sustainable meats on market. Our co-op takes care of each fish we catch from the ocean to your door, ensuring that all our customers can enjoy the healthy, sustainable products our fishermen work tirelessly to catch.
As a fishermen-owned co-op, we've been part of Alaska and the Pacific Northwest for a long time and we