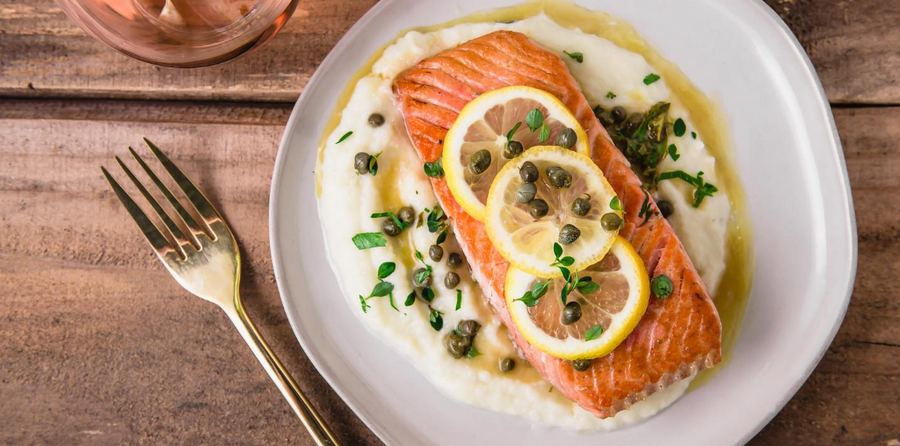 Ingredients
2 tsp. olive oil
2 Alaska Gold Wild King Salmon portions

 

(7 ounces each)
salt and pepper
2 garlic cloves, finely chopped
¼ cup dry white wine
juice of 1 lemon
1 tbsp. unsalted butter
3 tbsp. capers
1 lemon, sliced
parsley leaves, finely chopped
Cauliflower Puree
1 small head of cauliflower, cut into large florets
½ cup vegetable stock
½ cup heavy cream
salt and pepper
Instructions
Heat a skillet over medium-high heat and drizzle with olive oil.
Pat salmon dry and season with salt and pepper on both sides. Sear king salmon flesh side down for 2-3 minutes until charred, then flip and cook on skin side for another 2 minutes. Remove salmon from pan and set aside.
In the same skillet, add garlic and sauté for 1 minute until lightly caramelized. Pour in white wine and lemon juice and cook for additional minute. Add butter, capers, and sliced lemon to pan, season with salt and pepper, and stir together. Turn off heat and add the salmon back to pan.
For the cauliflower puree, add cauliflower, stock, and cream to a small pot and simmer until cauliflower is very tender. Once done, strain and save liquid. Add cooked cauliflower to blender or food processor and blend until very smooth. Pour in reserved liquid for a smoother consistency if needed and season with salt and pepper.
To serve, spoon cauliflower puree onto a plate and top with seared salmon and lemon caper sauce. Garnish with chopped parsley.