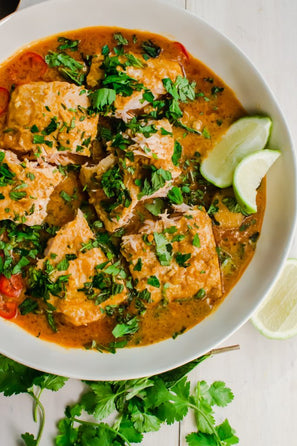 Our friend Samantha Ferraro is the author of The Weeknight Mediterranean Kitchen, a cookbook that extols the beauties of the Mediterranean diet with beautifully simple dishes and colorful photos.
This Keta Salmon Curry with Lemongrass and Galanga Recipe is not necessarily Mediterranean per se but borrows heavily from the colorful vegetable-forward beauty of Mediterranean cuisine. In this dish, wild keta salmon is poached with strong Thai flavors of ginger, galanga and lemongrass in a robust curry.
Ingredients
2 tbsp. coconut oil
1 small shallot, sliced
2 garlic cloves, chopped finely
1 small jalapeno, seeded and chopped finely
1 inch piece of ginger, peeled and sliced
1 inch piece of galanga root, sliced
2 stalks of lemongrass, gently crushed
½ tsp. ground coriander
½ tsp. ground curry powder
2 tbsp. panang or red curry paste
1 tsp. brown sugar
1 can coconut milk
2

 

Alaska Gold keta salmon portions

 

(6 ounces each)
salt and pepper
lime wedges
cilantro and mint leaves
sliced Fresno pepper
Instructions
Add coconut oil to a large skillet and being to medium-high heat. Add sliced shallot, garlic and jalapeno and sauté until shallot is translucent but not browned.
Stir in the ginger, galanga root, lemongrass, spices and curry paste and sauté for 30 seconds. Then add in brown sugar and coconut milk and stir to combine.
Nestle in the keta salmon portions and season with salt and pepper. Place a lid on the skillet and cook for 6-7 minutes until curry mixture has thickened slightly and salmon is cooked through.
Once done, you can flake the salmon for easier serving and garnish with fresh cilantro and mint leaves, sliced chili and lime wedges.