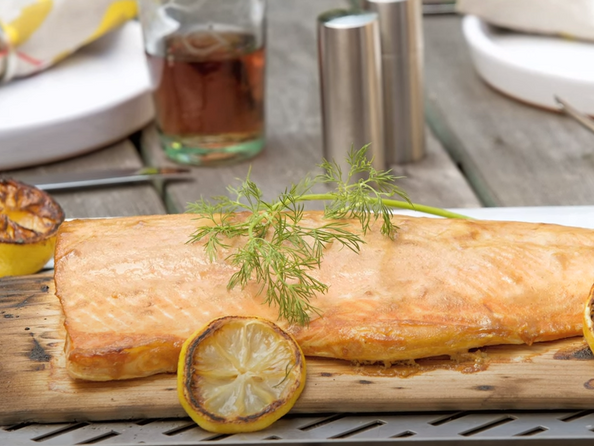 Cedar Plank Salmon – Step by Step
Using Alaska Gold coho salmon portions, we offer tips on how best to prepare a classic Northwest dish: Cedar plank salmon. (The video uses a coho salmon side, but portions work well, too.)
Serves 2
Ingredients
Glaze
1 tbsp. Dijon mustard
1 tbsp. maple mustard
 zest of one lemon
 freshly ground pepper
Instructions
Soak cedar plank in water for at least one hour but ideally overnight. (See best use instructions for cedar planks below.)
Thaw the coho salmon portions by leaving 24 hours in refrigerator in package. After thawing the salmon, don't forget to pat it down with a paper towel, an often overlooked and underestimated step.
Mix glaze ingredients into a bowl.
Set the grill to high heat (~475° F). If using oven set to 275° F.
Use a brush to apply glaze on flesh side of salmon fillet. Before placing planks with portions onto grill, reduce heat to medium (~275° F).
Cook for 10-15 minutes. The cedar plank will char and produce a wonderful cedar aroma which gives flavor to the fish. When done, the salmon will flake easily. Internal temperature should be around 135 F*. Pull off the grill and let stand for 5-10 minutes before serving.
* Remember: salmon continues to cook when removed from grill.
Best practices for using cedar planks:
Must soak cedar plank for at least 1 hour before use.
Cover entire plank with food. Our salmon portions should fit well.
Add to preheated grill or oven.
Keep grill or oven closed.
Cook until done.
Do not leave unattended.
Douse any flames with water.