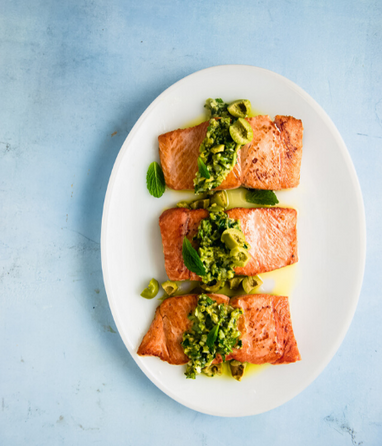 Serves 1-2
Ingredients
3 Wild Alaska Gold Coho salmon portions (6 ounces each)
salt and pepper
vegetable oil
mint leaves, for garnish
pomegranate seeds, for garnish (optional)
Olive Salsa
½ cup pitted green Castelvetrano olives
2 garlic cloves
2 scallions
1 cup fresh parsley leaves
3 tsp. olive oil
1 tbsp. lemon juice
Instructions
For the olive salsa, add pitted olives, garlic, scallions, parsley, lemon juice, and olive oil to food processor and pulse until finely chopped. Use a small spatula to scrape down as needed. Transfer salsa to a bowl and set aside.
Pat Coho salmon dry with paper towel and season with salt and pepper. Heat a skillet with vegetable oil on medium-high heat and sear salmon flesh side down until charred, about 3 minutes. Flip over and cook skin side down for another 2-3 minutes.
To serve, place salmon on plate and top with olive salsa, mint leaves, and optional pomegranate seeds.