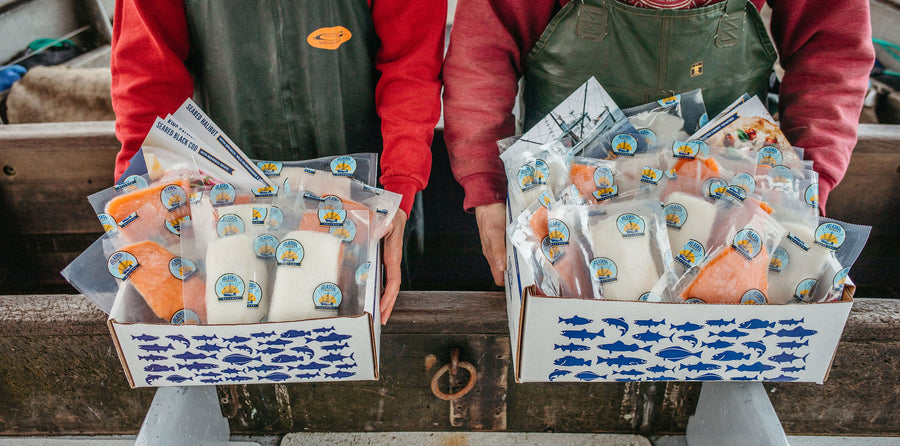 We Take Shipping Sustainable Seafood Seriously
Your frozen seafood should be premium quality and brought to you with minimal impact on the planet. As a fishermen-owned co-op, we use sustainable fishing methods (i.e., line-caught seafood) to harvest our wild seafood from well-managed fisheries. Fishing with artisanal methods is not easy, but one of the trickiest things we do is ship our sustainable seafood directly to customers.
When customers taste our seafood, they frequently ask why it tastes so much better than the seafood in grocery stores. First, we start with high-quality fish from the pristine Alaskan waters. From there, the premium flavor comes from what the fishermen do on their boats. They clean the fish quickly and get it on ice as soon as possible. That's it. That's the "simple" recipe for quality.
Flash-frozen seafood, by its nature, is very perishable. From the boat to your plate, it is all about maintaining the "cold chain" or, in other words, keeping the seafood frozen until it gets to your door.
Shipping Frozen Seafood
We aim to get our seafood to you frozen rock-hard. We pack our flash-frozen seafood with dry ice in a compostable insulator to keep it frozen until your order reaches your door. Maintaining the "cold chain" does have a carbon cost, but in general ordering seafood online has a smaller carbon footprint than purchasing from a brick-and-mortar retail store.
This study on the impact of online grocery sales illustrates some of the ways that ordering seafood online can be better for the environment than buying fish in the store. Depending on where we ship our seafood, the reduction in carbon emissions can be between 8 and 41%. This reduction in carbon emissions might seem counter-intuitive, given that we do need to pack with dry ice and an insulator. But let us explain…
Limiting Food Waste
When you shop for seafood at a brick-and-mortar store, that store doesn't have the luxury of knowing exactly how much fish they will sell. If they're serving never-frozen fish, they have to count on customers buying that fish within a few days. Some supermarkets do a good job of changing out the ice in their cases and using the right kind of ice to keep the fish in its optimal condition. Some stores don't do such a great job.
When fish sit at a "fresh seafood" counter for too long, the taste and overall quality of the fish deteriorates. This is one reason why frozen seafood is frequently the best choice, at least for taste. Beyond taste, frozen seafood is also great for reducing food waste. Fish sitting at a fresh counter for too long results in spoilage. This spoilage is a waste of fish and results in a higher carbon footprint per pound of fish consumed.
Reducing Transit
Frozen seafood is not wasted nearly as much as never-frozen seafood. This is, in part, because the fresh counter needs to stay fully stocked and maintaining inventory levels is difficult. Keeping the fresh counter stocked means shipping to nearby warehouses, which then distribute to individual retail stores. Sometimes, the seafood items move around between stores, depending on demand.
In contrast, an online retailer selling frozen seafood, like us, only distributes from one or two locations to ship our seafood straight to customers around the United States. Therefore, we're reducing travel times for the fish to get where it needs to be at the point of purchase.
But another huge factor is…You! Most people use a car to go to their grocery store. Buying seafood in a brick-and-mortar store also has a carbon cost. And with many people driving to their stores, that cost adds up.
Which isn't to say that seafood delivery doesn't have a carbon footprint cost. Certainly, we use a fair amount of packaging and dry ice to keep our seafood frozen until delivery. Our insulators are compostable. Wind powers our shipping fulfillment facilities and we offset the carbon emissions from the dry ice we use. These fulfillment facilities also conserve water and recycle over 50% of waste.
Shipping Methods
A key component of limiting carbon emissions is not using rush shipping. We do offer a rush shipping option for clients in a hurry to receive our seafood for a special event. But we discourage rush shipping with a surcharge.
By shipping ground using carriers like UPS, FedEx Ground, OnTrac, and GLS, your package essentially hitches a ride on a predetermined system, like a bus route, which significantly cuts down on the carbon footprint of your delivery. These carriers are already coming by your house on regular routes. In contrast, when you select rush shipping, a special trip is specifically made to your house in a small amount of time, which leads to a higher carbon footprint for the transit of your order.
Another way to reduce carbon emissions for your sustainable seafood delivery is by ordering in bulk. There is greater cost savings for you the customer and for us as well when you purchase in bulk from Alaska Gold Seafood. Purchasing our seafood for bulk delivery also increases our shipping efficiencies. In general, ideal package sizes for us are two five-pound boxes or four five-pound boxes.
So, get a 5-pound box of our coho salmon and a 5-pound box of our halibut. A number of our customers love our king salmon and order a 20-pound box, resulting in cost savings for the customer and shipping efficiencies on our end.