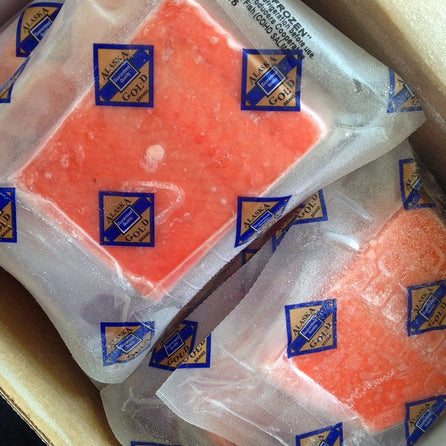 Here's a picture from a customer of what our frozen coho salmon portions look like right out of the box. Included is enough dry ice to keep the order frozen until arrival.
Many of our first-time shoppers wonder what a frozen seafood order looks like when delivered and how their seafood comes packed. The above picture from a customer shows our frozen vacuum-sealed wild coho salmon portions delivered upon opening the box.
We pack with enough dry ice to keep our seafood frozen until arrival given planned transit time plus an additional day in case of delay due to other or mishap. You can see from the below video of un-boxing a delivery of our frozen seafood the efforts we take to make sure that your order arrives intact and in good condition.
Once we receive a frozen seafood order, we determine when we will ship it using the map in this Frozen Seafood Shipping Questions post. We pack each box with enough dry ice to keep the order frozen until planned arrival date, plus an insurance amount of dry ice to keep the order frozen in case there is a delay. There is no way to know with entire certainty if there will be enough dry ice to keep the seafood frozen until arrival. But with our experience shipping, we can check weather and pack our boxes carefully to ensure the highest probability of our frozen seafood's good condition upon arrival.
We pack most orders with eco-friendly Thermopods instead of Styrofoam insulators. A Thermopod is a biodegradable cooler made from recycled denim extras from manufacturers of jeans.
See this video in which our team demonstrates packing a frozen seafood order.
Not all of our orders go out in Thermopods. Depending on weather or supply, we might use a Styrofoam insulator instead. If you absolutely want an eco-friendly Thermopod, please contact us. We totally understand. Note that Styrofoam insulators can also be re-purposed into planters, containers, and other items. See pictures from a customer below.