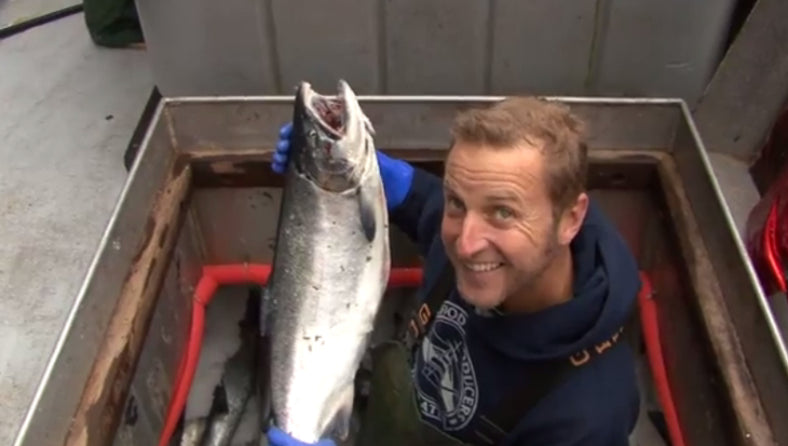 We offer direct access to a cooperative of quality-oriented producers who fish using traditional methods for wild salmon, halibut, sablefish and sashimi-grade albacore tuna.
Our line-caught seafood is truly special. We produce the best Alaska Seafood  that you can get. Our traditional fishing methods are better for the ocean and produce the highest quality fish.
Owned by the producers, Seafood Producers Cooperative is over 500 small family-run American businesses in one. As a cooperative made up of quality-oriented fishermen that's been around for over 70 years, customers know the co-op is in it for the long haul. Our loyal customers tell us we do things the right way. We are who we say we are. We don't promises we can't keep. Everything we do is with our proud tradition of quality seafood.
The whole is greater than the sum of its parts. When you order from Seafood Producers Cooperative's web retail store, the fish you receive is caught by hardworking Americans fishing on a small scale with minimal impact on small boats, like the 42-foot wooden trollers that co-op member Tom Fisher and many other members operate.
The pride members take in maintaining quality is unprecedented because we, the fishermen, own and operate the co-op. As member Jeremy Brown says of his salmon, "[e]very fish I catch is different. They're wild animals. They all have a different life history and story. They deserve and demand to be handled and treated all the way to people around the country with that sort of devotion to the quality of the fish."
Here, Lance Preston talks about how line-caught salmon is "the craft beer of seafood" and how our catch methods emphasize quality over quantity.
Amy Grondin relates how she works with chefs to foster a more sustainable seafood supply. 
Linda Behnken advocates for the small boat fishing fleet, fuel efficiency for fishing boats, and sustainable seafood through her work with the North Pacific Fisheries Management Council and the Alaska Longline Fishermen's Association.
The Miller Family is a fishing family with a long tradition of supporting the co-op and its members.