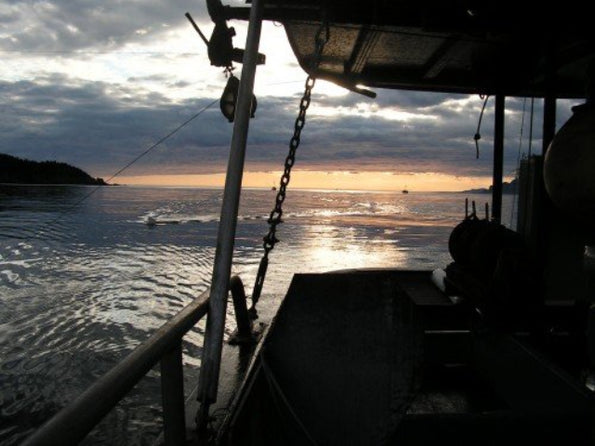 The appropriately named Tom Fisher has literally spent his entire life fishing Southeast Alaska.
Born and raised in Ketchikan, at age 13 he got himself an 18-foot skiff. It all started when his dad told him to fill the smokehouse. And that Tom did.
And during the process, he had an epiphany:
If he caught enough salmon, people would pay him to fish. It's just about anybody's dream come true to go fishing and for people to buy wild salmon from them. "I'm one of the luckiest guys on Earth! Other people don't get to do this."
Tom has been a board member for Seafood Producers Cooperative and he is catching salmon for purchase on the Alaska Gold website.
Tom's current boat the Aquarius as seen from the buying scow the Sea Lion
Tom is strictly a salmon troller. "I still marvel at the magic of salmon. They're just so resilient. The wandering life they lead. The whole idea that they take this wild journey miles and miles to return back to where they were born in order to die. It's just too much. Salmon are the barometer of our ecosystem. When we catch and eat a wild salmon, that is nature's true reward. "
Like just about all of our fishermen's co-op members,  what Tom likes most about being a salmon troller is the freedom. He loves the challenge of finding fish. He likes it when it's rough and there's a challenge. Notorious for finding fish when others can't, Tom knows the coastline and trolling drags from Cross Sound down south to Noyes island, the heart of the salmon trolling grounds in southeast Alaska, as well as anybody. He knows how to catch salmon when it's difficult. He does an excellent job of handling the fish on board because he knows the people buying salmon will appreciate the extra care he puts in.
Boats in the snow. Southeast Alaska.
When asked about why he's a member of Seafood Producers Cooperative, Tom responds: "Because at the end of the day, my work is compensated fairly. I get the fairest price for the fish I catch. I take great pride in workmanship and the co-op also takes pride in quality." Being a fisherman owner of a company bigger than oneself is a big responsibility and with it comes the pride in producing quality salmon.
Like other small boat fishermen, Tom believes salmon trollers are the ocean's best friends. "A healthy ocean is healthy for us. We don't want to damage our livelihoods. We are the Eyes of the Ocean."
Through most of his fishing career, which has spanned 40+ years, Tom fished by himself with no deckhand. "That way I can be closer to nature. I am the shipwright, mechanic, navigator and cook. Everything means more when you can do it yourself. There's more company on the ocean than in a city. It's just teeming with life. Wild Salmon is Nature's True Reward. It's how we live.
Tom's old boat, the Carol W, was built by Finns in Astoria in 1939 and in the pictures below its cedar hull is being restored. Tom is now fishing on the Aquarius.
Carol W, salmon trolling boat.
Carol W, wild salmon trolling boat
Carol W, wild salmon trolling boat.
The Carol W being restored