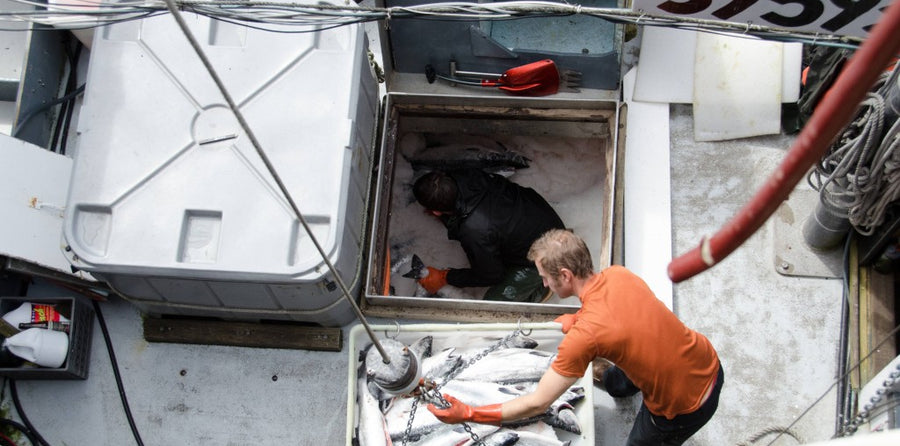 Only a small percentage of Alaskan salmon are caught using traditional hook and line methods that our Seafood Producers Cooperative members use. Our line-caught salmon is truly special. In essence, it's a boutique fishery focused on quality over quantity. As Seafood Producers Cooperative member Lance Preston says, "Like your micro-brews, we're a micro-fishery."
Lance is originally from New York, but spent a summer in Alaska and got hooked, working his way up from deckhand to captain and highliner.
Lance famously fished for salmon using hook and line methods on his classic wooden troller, the Seaboy. But he just recently upgraded to another slightly larger wooden boat, the F/V Duna, formerly owned by another co-op fisherman Amy Grondin and her partner Greg Friedrichs. On the Seaboy or any trolling boat in the Seafood Producers Cooperative fleet, each line-caught salmon is landed on deck, carefully cleaned, and iced within a half-hour, resulting in the finest quality salmon available. The great care taken in cleaning and handling our wild salmon begins on the boat with the unique traditional fishing methods that co-op members like Lance use. This attention to detail extends all the way to our customers with the extreme care we take in packing fish for safe transit and arrival at its destination in the most pristine state.
Lance unloading premium-quality line-caught Alaska salmon.
As a fishermen-owned cooperative, we take great pride in delivering the finest-quality salmon all the way to our customers. As Lance puts it elegantly: "[As a Seafood Producers Co-op member] I get to produce a quality product that is sustainably harvested in a well-managed fishery and belong to a cooperative that is taking care of us and we're all taking care of each other. We're all part of it. We are owners of the entire organization cooperatively. No one's being exploited. We're making a decent living. And I get to go fishing. What guy doesn't like to go fishing?"
Here Lance is in own words describing why the highest quality salmon is a line-caught salmon from Seafood Producers Cooperative.
Lance's line-caught salmon being delivered.
The Seaboy, a classic wooden salmon troller from the 1930s. Owned by a number of Seafood Producers Co-op legends over the decades, including SPC Board Member Lance Preston.