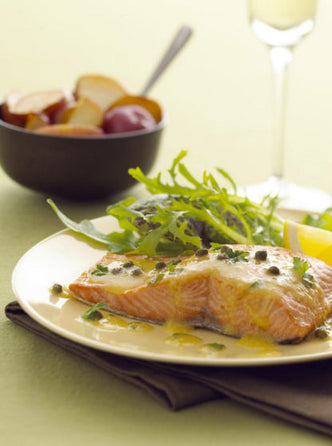 Salmon with capers and dill recipe. Photo courtesy of Alaska Seafood.[/caption]

Capers pair well with rich, oily healthy fish like salmon, cutting through to add a punch of flavor. This dish can be made in only a few minutes and works particularly well with boiled new potatoes.

Serves 4

Ingredients

4 tbsp. (50g) butter, diced
4 eight-ounce Alaska Gold King Salmon Portions
Salt and freshly ground black pepper
4 tbsp. capers, drained and rinsed
2 tbsp. freshly squeezed lemon juice mixed with 6 to 8 tbsp. water
4 tsp. chopped fresh dill
Instructions

Place a frying pan over medium-high heat. When it is hot, add a couple of pats (knobs) of butter, very quickly followed by the king salmon portions, with the skin side down. Fry for 3 to 4 minutes, until golden brown underneath. Turn over, season with salt and pepper, and fry for another couple of minutes, or until the fish is just cooked through. (The timing will depend on the thickness of the salmon fillets and heat of the pan.)

Add the capers, along with the remaining butter, and lemon juice mixture and boil for 1 minute. Season to taste, adding more lemon juice or water, if necessary. Transfer the salmon onto warmed plates, stir the chopped dill into the sauce, and pour over the fish to serve.

Prep time: 5 min.

Cook time: 10 min.

Total time: 15 min.


Adapted from Rachel's Irish Family Food: 120 Classic Recipes from My Home to Yours by Rachel Allen. Copyright © 2013, Collins.