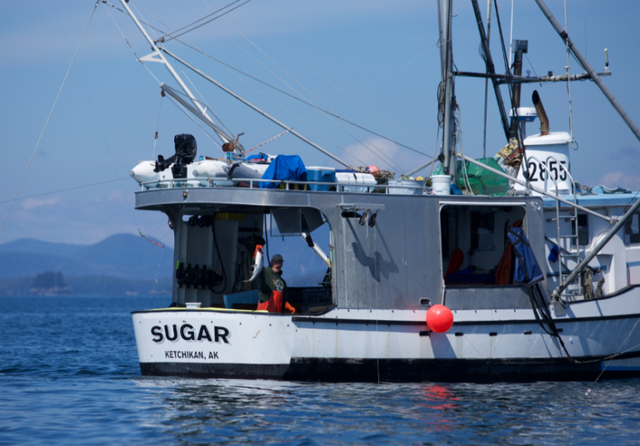 We get questions about whether our seafood is wild or why to eat wild salmon. Or why choose Alaska Gold salmon. First, our seafood is wild-caught by the fishermen-owners of our co-op in Alaska, where finfish farming is illegal. Here are just a few of the reasons to choose Alaska Gold wild seafood:
1) LOCAL: We are an American company owned and operated by Americans. There are some USA produced farmed salmon but most farmed salmon available for sale is produced by Norwegian-owned companies in Chile. Alaska is a shining star in seafood sustainability with fish stocks managed so that our grandchildren's grandchildren can enjoy wild Alaska seafood.
2) HEALTH: While farmed salmon also have the heart-healthy omega-3s that people crave with wild salmon, they have more of the less healthy omega-6 fats. Because they sit in an enclosed space, farmed salmon are fatty and flabby fish with more of the "bad" fats and less of the "good" fats. There are things far less nutritious than farmed salmon, but we are what we eat. The lean protein of wild salmon is all the good omega-3 fatty acids without all the flab.
3) Alaska SUSTAINABILITY: This might be a strange way to look at it but is huge for us as a fishermen-owned co-op: If we lost the commercial wild salmon fishermen, we'd lose the wild salmon. Nobody advocates as passionately for protecting the waters and the fish than fishermen. Many watersheds might have been destroyed by mining or timber if it were not for fishermen who depend on the health of these places. There are only a few of these places left on the planet and our fishermen are fighting to protect them. When managed well, as wild salmon stocks are in the state of Alaska, wild salmon is a resource that can last forever. Where salmon farms have started, the health of wild salmon is endangered.
Most importantly, TASTE. There's just something deeply satisfying about wild salmon. Whether you're grilling our king salmon, poaching our coho salmon, roasting our keta salmon, or making citrus-lime tacos with our sockeye salmon, you're getting a taste of the wild.
At our fishermen-owned co-op, our catch methods, ethics and quality are Gold. Alaska Gold. We look forward to serving you.