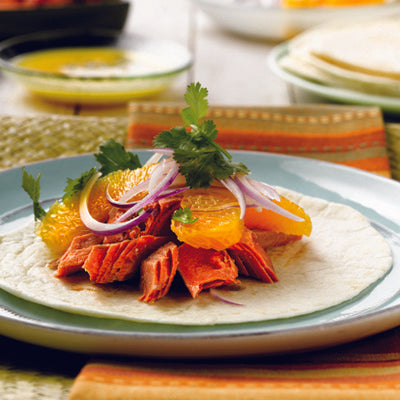 Ingredients
1 garlic clove, chopped

1 Serrano chile, seeded and chopped

2 tbsp. olive oil, divided

2 tbsp. water

2 tbsp. frozen orange juice concentrate

salt and pepper, to taste

8 small (6 to 7-inch) flour tortillas, warmed

2 large, navel oranges, peeled, pithed and segmented

1/2 cup thinly sliced red onion

1 cup fresh cilantro leaves
Instructions
Combine garlic, chile and 1 tablespoon oil in a heavy nonstick skillet. Sauté over medium heat until garlic and chile are soft. Remove pan from heat; place garlic and chile in a small bowl. When cool, add water and juice concentrate; blend.
Rinse any ice glaze from salmon portions under cold water; pat dry with paper towel. Return skillet to medium-high heat. Brush both sides of salmon with remaining oil. Place coho salmon portions in heated skillet and cook, uncovered, about 3 to 4 minutes, until browned. Shake pan occasionally to keep fish from sticking.
Turn portions over and season with salt and pepper. Cover pan tightly and reduce heat to medium. Cook 3 to 4 minutes for thawed fish. Cook just until fish is opaque throughout. Remove skin, if any, and break into large chunks.
To serve, divide salmon among tortillas. Top with 2 to 3 orange slices, 1 tablespoon red onion slices, 2 tablespoons cilantro leaves and 1/2 tablespoon chile-citrus sauce.
Photo and recipe courtesy of Alaska Seafood.