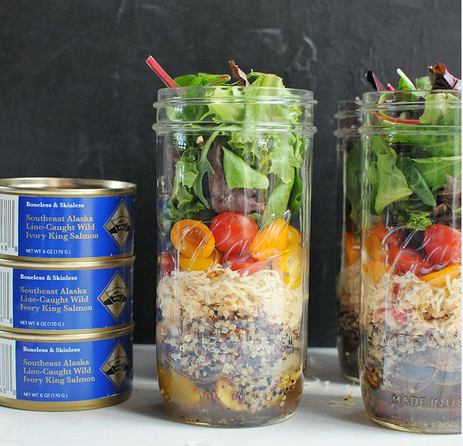 Our most popular offering is our wild king salmon. With their rich, buttery flavor and high omega-3 content, our wild king salmon portions are perfect to cook for an elegant meal at home. But what about when you are on the road, are busy working, or don't feel like cooking? The wild salmon that we put in a can are the same great salmon that we sell as king salmon portions on our website. You can get the great taste and nutrient-dense protein of our most popular product in the convenience of a can. The can makes our most popular offering easy to bring with you places or prepare easy but elegant meals any time you'd like.
We hang our hats on artisan quality. We can in small batches. You'll be able to taste the artisan quality of our canned salmon. But canning in small batches also means that sometimes we are out of stock. When we are out of stock of our canned salmon, we have had customers begging for more. We recommend stocking up when you can.
Canned salmon is a robust, nourishing food. The nature of the canning process results in some unique nutritional benefits. Canning preserves protein, fats (like omega-3 fatty acids for which wild salmon are known), minerals and fat-soluble vitamins (like vitamin D). Kept in a cool, dark pantry, our canned salmon can be ready to eat in good condition for many years. We do not include an expiration date on our cans, because if the canned seafood is stored properly, it can stay in good condition for a long time.
Why Alaskans Love Canned Salmon
Alaska is wild and remote. In many places, there is limited access to grocery stores, and because of its remoteness, stocking up on food is cost prohibitive. Our fishermen-owned processing plant is in Sitka, which is on an island only accessible by air or boat, which means that we have to be self-reliant. This remoteness is typical in Alaska and is why so many Alaskans are well versed in food preservation. There is a tradition going back thousands of years with the local natives , the Tlingits, preserving fish so that they can eat it year-round. Canning, smoking and pickling are still second nature to many Alaskans, who depend on the food they produce to feed them the entire year.
Alaskans hunt. They take part in subsistence fishing. They forage mushrooms, kelp, berries, and beach asparagus. What Alaskans hunt, fish and forage typically is preserved for later use, as harvesting seasons are short in Alaska and winter lasts a long time. What Alaskans put up to preserve becomes a source of pride among families and guests. A classic easy Alaskan appetizer, snack, and all-around good meal is a plate of canned salmon, homemade sourdough bread, and pickled beach asparagus.
Specs on our Canned Salmon
Since our canned salmon is cooked, all you need to do is pop open a can and begin eating. The uniform shape of the cans makes them easily totable on hiking, backpacking, biking, and other adventures. Once again, there is no expiration date, so the canned salmon is ready when you are to be enjoyed when you're out and about or just want a simple meal at home without having to cook. You can also serve our canned salmon on some pasta for an easy elegant dinner.
Our canned salmon is cooked with just a little bit of salt. No other ingredients. We keep it simple to let the salmon's flavor speak for itself. It's worthy to note that our canned salmon is only cooked once during the canning process. There is some canned seafood that is double-cooked and this can produce an odd flavor and texture. We really try to keep it simple and focus on quality.
Our canned salmon comes boneless and skinless for maximum convenience. Note also that each can is 7.5 ounces. This is larger than typical cans for canned seafood. We find that 7.5 ounces is a perfect size to feed 2 people with a sandwich or pasta or even straight out of the can. Whatever you do with our canned salmon, know that it is easy, delicious, and of course easy to prepare. Here is what one customer said about our canned sockeye salmon: "This was our first order of canned sockeye salmon from Alaska Gold and its wonderful! Not too salty, big firm chunks of skinless, boneless salmon. Not fishy at all, I dislike fishy fish, we eat this straight out of the can as often as not, we drink the juice when done as it's tasty too. This is NOT your supermarket variety canned salmon!"
On the Different Varieties of Canned Salmon We Sell
Our canned salmon line-up includes our canned king salmon, canned pink salmon, canned sockeye salmon (out of stock now), and our canned ivory king salmon. These are some of our most popular offerings. Note that the canned king salmon and the canned ivory king salmon are cut from the same species of fish (Oncorhynchus tshawytscha). Also known as chinook, they are known for their large size and rich omega-3 content. King salmon are the wild salmon with the highest omega-3 fatty acid count. The difference between the canned king salmon and our canned ivory king salmon is in the color of the flesh. We sell our portions this way, too. You can see more on the variations of color in king salmon here. But roughly 5% of king salmon are unable to process the red pigment of the crustaceans that are part of their diet. You will notice that the ivory king salmon will be much lighter in color and not the orange, red, salmon-y color we think of with salmon. Nutritionally, the king salmon and ivory king salmon are the same salmon, but some people like the slightly more mild and buttery flavor of the ivory king. That's up for you to decide. Here's what one customer said: "As a regular purchaser of canned wild red salmon for almost 20 years, I will definitely say that this Ivory King Salmon is the most tender salmon I've enjoyed."
Our canned sockeye will be red in color. Sockeye is known for its bold flavor and high vitamin D content, in addition to the astaxanthin. Astaxanthin is what gives it its red color and is an antioxidant that may improve the way the immune system works, in addition to protecting how the immune system functions.
Enjoy our canned salmon!