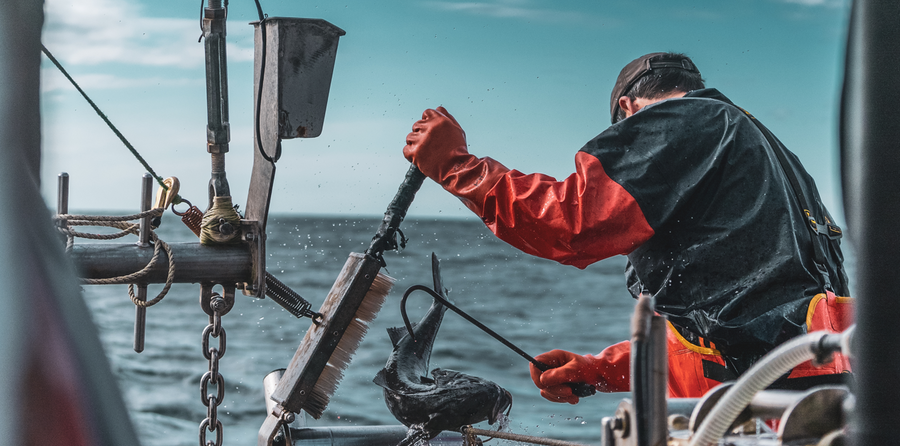 Without a doubt the most famous recipe using sablefish aka black cod is Chef Nobu's miso-marinated black cod recipe. Our miso-marinated black cod recipe here is a simpler rendition of the famous recipe featured in  Nobu: The Cookbook.
We humbly acknowledge Chef Nobu's work in bringing black cod to the American dinner table. Before Nobu, almost all of our co-op's black cod went to Japan where this fish is deeply appreciated for its unique richness—diners in Asia give their children black cod because it is considered "brain food," because of all the brain-healthy omega-3s. With Nobu's miso-marinated black cod, the rest of the world has been able to appreciate this exquisite delicacy. Chef Nobu has won so many accolades, but his greatest achievement is bridging East and West sensibilities to create unique dishes and experiences to savvy diners and fans around the world.
So, it was a great honor and privilege to be featured in Nobu's Hotel Magazine (Issue 5). In a story written by Sitka-based author and owner/operator of Fireweed Dinners Beth Short-Rhoads, we're really happy to see our coastal community's bounty and our fishermen-owned co-op presented in the pages of Chef Nobu's Hotel Magazine (Issue 5) (see pages 102-107 for the full story).
Highlights from the story are words from one of our fishermen Kurt Hansen who operates the Middleton, a 100-year-old wooden boat on which many of our Alaska Gold black cod are caught. Our black cod comes from a special place—"snowcapped mountains meet coastlines of lushly-fringed evergreen forests and quaint fishing towns." Here our fishermen "carry on the tradition of harvesting black cod, one by one, on sturdy lines that descend 200 fathoms (1,200 feet or 360 meters) into the sea," or as Captain Hansen notes, "'[o]ut on the edge where the continental shelf breaks off and goes down into the abyss—that's where we go.'"
As Beth sums up, "It's no surprise that Nobu Restaurants, in its never-ending quest for culinary excellence, sources black cod from a distant edge of the world like Southeast Alaska. As Captain Hansen says about fishermen like himself who have spent a lifetime there. 'That's where we go to pull some of this wonderful gold out of the sea.'"
Beth is a friend of our fishermen-owned co-op and her Savory Moment podcasts are a great listen to get more acquainted with southeast Alaska. We particularly enjoy Season 2's "Black Cod for Breakfast" episode—beyond being a standout for a fancy dinner, there is a very legitimate case for serving black cod for breakfast as the Japanese do. Follow Beth on her Instagram here and see what it's like creating inspired recipes from wild southeast Alaska.
What's special about our Alaska Gold black cod is our reputation of quality stemming from our black cod being caught on the small boats of our co-op's fishermen-owners. Alaska Gold Seafood is your retail outlet for fish caught by the fishermen-owners of Seafood Producers Cooperative in Sitka, Alaska. Black cod has a whopping 1787 mg of heart-healthy omega-3s per 100 gram serving. And a 6-ounce portion has 90% of the daily recommended vitamin D. Seafood, like black cod, is one of the few natural sources for omega-3s and along with the sun's vitamin D. Black cod truly is a staple of our Sitka-based fishermen-owned co-op. It is a plentiful fish—quotas for fishermen have been going up as black cod have been resilient to change and continue to increase in numbers. If you've never had black cod before, start with this miso-marinated black cod recipe. You can also have a taste of our black cod without committing to a 5-pound box in our Alaska Gold Standard Variety Pack.