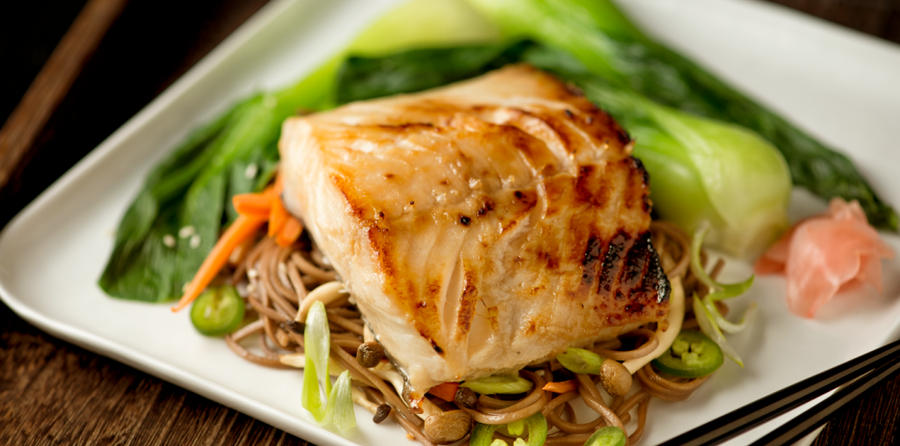 Unusually rich and smooth, black cod (or sablefish) pairs perfectly with a miso marinade. Black cod is the richest fish we sell. With more Omega-3 fatty oils than salmon, it is difficult to overcook. Broiling the black cod gets each filet to a perfect amber caramel. The marinades use of mirin and a little bit of sugar appeals to the sweet tooth that we all have and bring a complex umami. In addition, the marinade caramelizes making it relatively easy to see when the black cod is done. And even if overcooked, the black cod's fat content is so high that it does not dry out. Black cod is very forgiving to cook!
This miso-marinated black cod recipe requires planning ahead to prepare the marinade. But once you have the marinade ready, it's pretty easy. This video walks you through the steps.
Serves 2
Ingredients
1 package Buckwheat noodles
3-4 heads, baby bok choy, trimmed, leaves separated
1 small handful, sesame seeds
Marinade
3 tbsp. mirin (if you don't have mirin, a simple substitute is rice vinegar with a hint of sugar)
3 tbsp. sake (some say white wine can function as a substitute here)
½ cup white miso paste (miso can be found in the refrigerated section of the supermarket typically in little tubs)
⅓ cup sugar
Instructions
Thaw the black cod portions by leaving 24 hours in refrigerator in package. After thawing the black cod, don't forget to pat it down with a paper towel, an often overlooked and underestimated step.
Prepare marinade one to two days in advance.
Bring the sake and mirin to a boil in a medium-sized saucepan over high heat.
Boil for 20 seconds to evaporate the alcohol.
Turn the heat down to low, add the miso paste, and whisk.
When the miso has dissolved completely, turn the heat up to high again and add the sugar, whisking constantly to ensure that the sugar doesn't burn on the bottom of the pan.
Remove from heat once the sugar is fully dissolved. Cool to room temperature.
Brush the marinade onto the black cod.
Set the marinated black cod in refrigerator in a Pyrex dish covered in plastic wrap to marinate for one to two days.
Preheat oven to 400° F
Scrape the marinade off the black cod using a butter knife.
Place black cod in a cast iron pan (~10") and either use the broiler function on your oven or cook over high heat 2-3 minutes per side, charring the skin and getting a browned look to the white flesh of the black cod.
Bake at 400F for 10 minutes.
Plate with pickled ginger, steamed bok choy and buckwheat noodles and a sprinkle of sesame seeds on top.
* Black cod is the richest fish we sell, with more Omega-3 fatty oils than salmon. It is difficult to overcook. Baking for 10 minutes should be sufficient but black cod is forgiving.
** This is a variation on a classic recipe made famous by Nobu's Kitchen and many know it as Nobu's black cod.