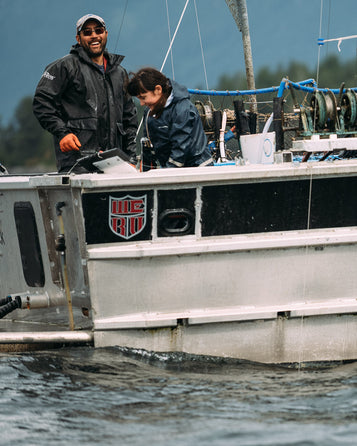 Getting premium-quality Alaska seafood delivered to your door is not cheap. Where we fish in southeast Alaska is remote and paying attention both to quality and the logistics hurdles of shipping fresh-frozen seafood to our customers requires a number of steps. Whether it's on the boat, in our Sitka-based processing plant, or shipping seafood to our customers, our people are paying attention to the details to make sure our customers are satisfied with their orders. It's a complex process.
The most efficient way to get the most from Alaska Gold Seafood is by ordering in bulk, which creates some efficiencies, and in turn saves customers money in the long run.
Shipping our fresh-frozen seafood to your door is most cost-efficient with the more pounds of fish you order. Orders that total 20 pounds or more of frozen seafood ship the most efficiently.
The more frozen seafood items packed tightly in a box the more likely that together they'll stay frozen rather than thaw. We're very deliberate with our 5-pound box of seafood minimum order. These 5-pound interior boxes are very sturdy to keep your frozen seafood order intact and frozen. (We've known lots of customers to re-purpose these interior boxes to use for storing and organizing tools and other important items.) As a result, when you put together a larger seafood order for delivery, you save money on the fish you love. We recommend getting together with neighbors and friends to stock your freezer.
In addition, keeping your freezer full will help it run as efficiently as possible. With more frozen items in the freezer, the freezer requires less electricity to keep everything frozen.
With rising costs of food (also part of rising logistics costs), Americans are purchasing deep freezes in order to save money by buying protein in bulk. If you have space for a deep freeze in your home, it makes shipping Alaska seafood to you more affordable because of the costs involved with shipping seafood.
Put together an order of $700 or more and get 15% off with the following coupon code: AKGold_Bulk
If you have a chest freezer or a deep freeze, ordering bulk seafood for delivery from Alaska Gold Seafood is the best way to get the best value for fresh-frozen Alaska seafood delivered to your door.
We are a fishermen-owned co-op—100% owned and funded by fishermen with 100% of profits going to fishermen. Since 1944, we've had a relentless commitment to quality. And since we're a co-op made up of quality-focused fishermen, what we do best is produce quality seafood in bulk. As the people that catch the fish, our strength is in producing premium-quality Wild Salmon, Halibut, Black Cod, and more. And you can have the direct connection with the fishermen catching the fish. Our processing plant in Sitka, Alaska is 100% focused on quality. And in turn, we aim for white-glove service in shipping seafood to our customers.
Our salmon, halibut, rockfish, and sablefish portions are vacuum-sealed and individually wrapped to stay in good condition in your freezer for six months. You can conveniently take one fillet out of the freezer at a time to thaw and cook when you like to. We recommend keeping your deep freeze at its coldest setting and minimizing the amount of times you open and close the door to maintain best quality.
Our fishing boats are small family-owned businesses. As a co-op, our fishermen banded together to purchase a processing plant in Sitka, Alaska. Our fishermen-owned co-op has also invested in the infrastructure to serve our customers with the best quality seafood. With deep pride, our fishermen have put an emphasis on quality. With blast freezers that freeze the fish down to colder than thirty degrees below Fahrenheit and the best in packaging, ordering our flash-frozen seafood in bulk is the most economic way to get the seafood you love delivered to fill your freezer.
We offer our Alaska Gold Loyalty Program for those who don't have large freezers. With the Loyalty Program, customers can get a regularly discounted price to have their favorite seafood delivered on a regular basis.
But if you have a deep freeze and/or friends and family to get together with on a bulk seafood order, we recommend ordering our Alaska Gold Seafood in bulk for the most cost-efficient premium-quality seafood delivery. Ordering seafood in increments of 20 pounds works best.
Joining together to save is how co-ops work best. Co-ops are built on the fundamental idea that we can work better together and that we can be more productive working together purchasing supplies at bulk rather than on our own. Producer co-ops became a way for small producers to achieve some economies of scale and achieve goals that they otherwise would not have been able to on their own.
A cooperative is a group of persons united to meet common aspirations through a member-owned enterprise. Together, as a group of like-minded fishermen, a co-op can invest in processing and packaging facilities. A co-op provides a safety net by allowing our members to pool together and get things like vessel insurance or savings on gear purchases. A co-op allows fishermen to do what they do best: Catch fish. A co-op also eschews the problem of being owned by a financial landlord that might take advantage of the fishermen.
Co-ops have a unique way of doing business that offer fishermen the best of both worlds, giving the opportunity to work independently, the way fishermen work best, but while also providing a space to pull resources together to achieve a higher goal.
More than a way for fishermen to take control of the profits from their catch, the Co-op became a community in which fishermen band together in order to make their own destinies. Together, as a co-op, formed through blood, sweat and tears, fishermen  control their own destinies rather than rely on outside corporate entities in far-off places.
Our strength as small boat fishermen is working together as a co-op to achieve bigger goals. In the same way, when you get together with neighbors and friends you save shipping costs on our end and get greater savings for everybody.
Our co-op members catch seafood with artisanal hook and line methods and minimal impact on the ocean. As a co-op we have efficiencies gained from our fishermen working together to produce a spectacular product. We pass on the same cost savings to you when you order our seafood for delivery in bulk.
Some of our customers have fished for king salmon or halibut in Alaska. They are used to filling their freezers with enough fish to last a long while. If they are not able to make the trip to Alaska, they have found that ordering from us is the best alternative. And honestly, ordering quality seafood from Alaska Gold Seafood is a lot less expensive than making the trip to Alaska to fish and then bringing the fish back. These customers, accustomed to bringing home large boxes of seafood from Alaska, know that ordering in bulk is the most cost-efficient way to get premium-quality seafood.
Tad (pictured below with his daughter) is one of our fisherman-owners and the chairman of our board. Tad grew up sport fishing in Southeast 
Alaska
 and transitioned to commercial fishing after years working in the engineering field. Tad is one of the fishermen-owners you support when you order from Alaska Gold Seafood.
Use a coupon for large orders. 15% off orders of $700 or more. Use the following code: 
AKGold_Bulk
This is the best way to order seafood online and get great value. Get your neighbors or co-workers together to put together large orders and receive price savings. We're happy to help. We also offer some wholesale pricing on orders over $1000.
Inquire with us
.