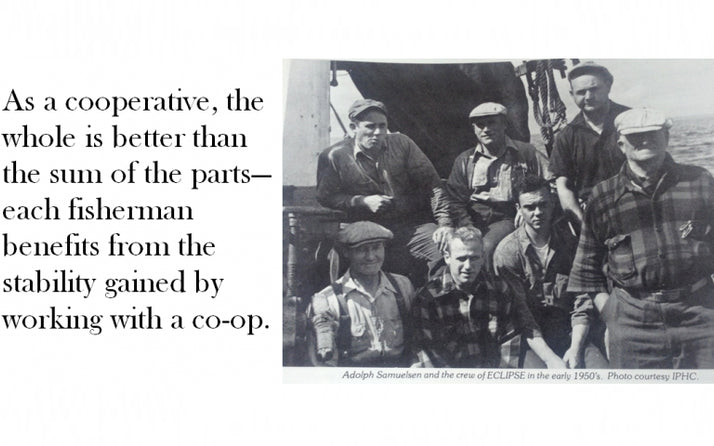 Alaska Gold Seafood is caught by members of Seafood Producers Cooperative (SPC).  SPC is owned and operated by quality-oriented fishermen. Quality is the keystone of  our mission.
Ryan Wilson on the Roshell.
Over 75 years ago, a group of Alaskan halibut fishermen realized that the best way to ensure that their products were delivered with quality from ocean to market was to process their own fish instead of depending on the services of agents and distributors. They formed what would become North America's oldest and most successful fishermen's cooperative: Seafood Producers Cooperative.
Alan Andersen gaffing a king salmon. Our traditional hook and line methods produce a fine quality fish.
What started in 1944 as a cooperative to provide halibut liver oil to vitamin companies has now become a full-fledged organization that provides the highest quality fish available to sushi producers in Japan, smokers in New York City, upscale restaurants across the United States, and reputable grocery purveyors in Europe. And the fishermen are still the boss. Our fish has been so popular around the world that we wanted to make it available for convenient delivery to consumers in the United States with our retail website. See our offerings here.
SPC owner/members have pulled together to build a processing plant, offer vessel insurance, bait, gear and fuel discounts, in addition to awarding scholarships for members' children. The co-op works to preserve the livelihoods of fishermen and the coastal communities within which they work.
Members advocate for responsible resource management through participation at the regulatory level, all in the hopes of consistently bringing quality seafood to their customers in a sustainable way. Starting with a quality-focused mission and the principle of taking great pride in what they do because it is their co-op, fishermen members work on small boats, at a small scale, but their fish reaches customers around the world.
Gary McMaster of the Brat.
The Seafood Producers Cooperative Mission Statement 
The mission of Seafood Producers Cooperative is to maintain an opportunity for quality oriented fishermen to participate in a cooperative organization that provides processing, marketing and support services which will allow members to maximize the benefits of their fishing efforts and provide the consumer with the highest quality seafood possible.