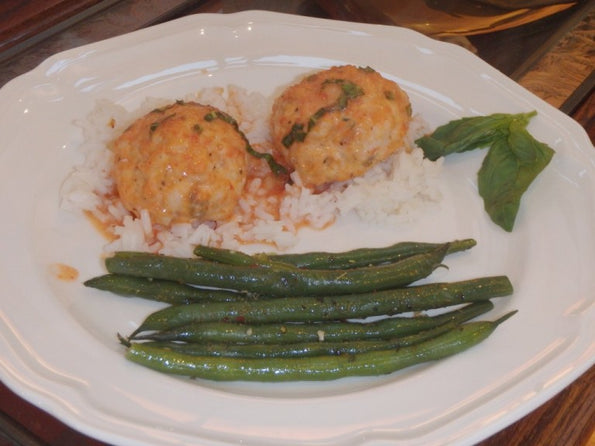 Ingredients
Salmon balls
1 lb.

 

Easy Salmon
½ c. cooked rice – cooled
¼ c. grated parmesan
¼ c. finely chopped onion
¼ c. finely chopped basil (Thai basil, if available)
1 large egg
2 tbsp. mayonnaise
1 tbsp. lemon juice
Rind from ½ large lemon (yellow part only)
½ tsp. salt
pepper & Mrs. Dash seasoning, to taste
Sauce
one can full fat coconut milk (5.46 oz)

¼

c. red sweet pepper sauce (*see below)
1 tsp. fish sauce
¼ c. finely chopped basil
1-2 tsp. red curry paste or to taste
salt & pepper to taste
Directions
Pre-heat oven to 400°F.
Drain liquid from one 1 lb. package of easy salmon. Mix easy salmon with rice, parmesan, onion, basil, egg, mayonnaise, lemon juice and rind, salt and seasonings in large mixing bowl.
Divide mixture into 12 pieces. Roll each piece into a ball. Arrange on greased rimmed cookie sheet. Place sheet with meatballs in a freezer for 5-10 minutes to firm up. Bake at 400°F for about 18 minutes. 
Mix coconut milk and red curry sauce in a small saucepan and stir until smooth. Heat gently to a simmer. Add red pepper sauce, chopped basil, fish sauce, and seasonings. Heat gently and spoon over salmon balls and rice. Garnish with basil.
*Red Pepper Sauce: Roast 2-3 firm red sweet peppers with thick skins 8-9 inches under the broiler for about 20 minutes or more, turning over after the first 15 minutes. The skins will blacken somewhat. When cool, peel skins and remove seeds. Puree in a food processor. Note: roasting time will vary depending on oven, distance from heat, and whether one pre-heats or not.
Serves 4-6 people