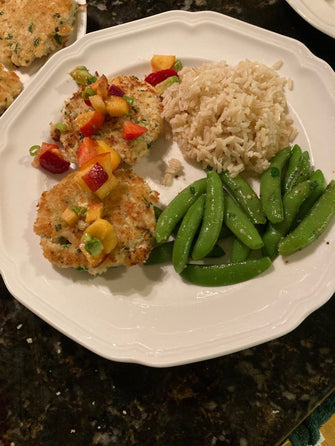 This recipe comes to us from Darlene, a longtime Alaska Gold customer who has tried all of our offerings. She loves making fish "cakes" and her recipe for Halibut Cakes with Tarragon will hit the spot.
Ingredients
1 lb.

 

Alaska Gold Easy Halibut Meat, thawed and drained of any liquid
¼ c. finely chopped yellow onion
¼ c. finely chopped celery
2 tbsp. lemon juice
Finely grated lemon rind from ½ lemon
1 tbsp. finely chopped parsley
1 – 2 tbsp. finely chopped fresh tarragon
2 tbsp. finely chopped green onion
¼ tsp. Salt
Mrs. Dash seasoning to taste
Emeril's "Taste of New Orleans" to taste
1 egg – beaten
2 tbsp. mayonnaise
½ c. Panko + 1/3 to ½ c. more Panko to coat cakes
2 tbsp. olive oil
Instructions
In a mixing bowl combine Easy Halibut Meat, chopped vegetables and seasonings, and fold in beaten egg and mayonnaise.  Then fold in ½ cup Panko.  Allow mixture to soak up moisture for about 5 minutes or so, then divide into 8 cakes or patties. Coat each cake with Panko and place on a baking sheet lined with wax paper and place in freezer for 10 minutes to firm-up cakes for frying. Heat olive or sesame oil in a 10 – 12 inch frying pan (I used a non-stick pan).  When oil just starts to heat (and you see steam rising), gently add cakes and sauté until they are brown – about 3 minutes total for both sides.  The cakes are fragile so carefully handle them as you transfer them from baking sheet to frying pan – pushing ingredients together with your fingers, if needed.  Serve with a fruit salsa of your choice or the suggestion below.
Salsa
In another bowl,  mix together 1/2 tomato chopped into 1/4 inch pieces (remove seeds and liquid part), ½ red pepper chopped, one mango chopped, 1 tbsp. chopped onion, ½ Jalapeño chopped,  ½ avocado chopped,  2 – 3 tbsp. chopped cilantro, and 1 tbsp. olive oil.   Cover and chill for at least 30 minutes.  Try peach, papaya, or nectarine for variety.