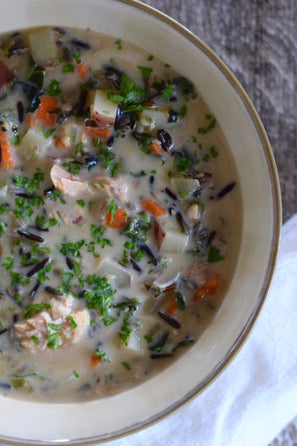 Here's a note from Crystal about her wild salmon wild rice and kale soup: "Wild rice soup is something my family has been making for years--it's one of our favorite meals! And wild rice is a wonderful whole food produced locally in the north woods of my home state of Wisconsin. Paired with fresh kale from our garden and nutrient-rich seafood- this 30-minute salmon, wild rice & kale soup is incredibly healthy and full of flavor!"
I've made wild rice soup with both chicken and ground beef in the past, but never with salmon--when I saw your Easy Salmon product, I knew it would be the perfect protein to not only make this meal feel fancy, but get dinner on the table in a fraction of the time! Thanks for the opportunity!"
Ingredients
2/3 cup (uncooked) quick-cooking wild rice
2 tsp. olive oil
1 large yellow onion, diced
4 celery stalks, diced
2 tbsp. all-purpose flour
1/2 tsp. dried thyme
1/2 tsp. dried oregano
1/4 tsp. dried dill
5 c. vegetable stock
1 c. diced red potato
1 c. diced carrot
1 tsp. sea salt
1 package Alaska Gold's Easy Salmon
2 c. chopped fresh kale
2/3 c. half and half
2 tbsp. minced fresh parsley, optional for garnish
Prepare wild rice according to directions on package. Cook rice until al-dente, drain any excess water, and set the rice aside.
While rice is cooking, heat 2 tsp. olive oil in medium to large soup pot and sauté diced onion and celery until tender, about 5 minutes. Sprinkle flour, thyme, oregano, and dill over vegetables, stir them around, and cook 1 minute more.
Pour in vegetable stock and stir to combine, making sure to scrape bottom of pan to loosen and brown bits of flour. Bring to a gentle boil. Add in diced red potato, carrot, and sea salt and allow to simmer for 8 minutes. Add in package of Easy Salmon and chopped kale and cook for 5 more minutes, or until vegetables are tender and salmon is cooked through. Stir in the cooked wild rice.
Turn off heat and stir in half and half. Ladle soup into bowls and garnish with sprinkle of fresh chopped parsley. Serve and enjoy!