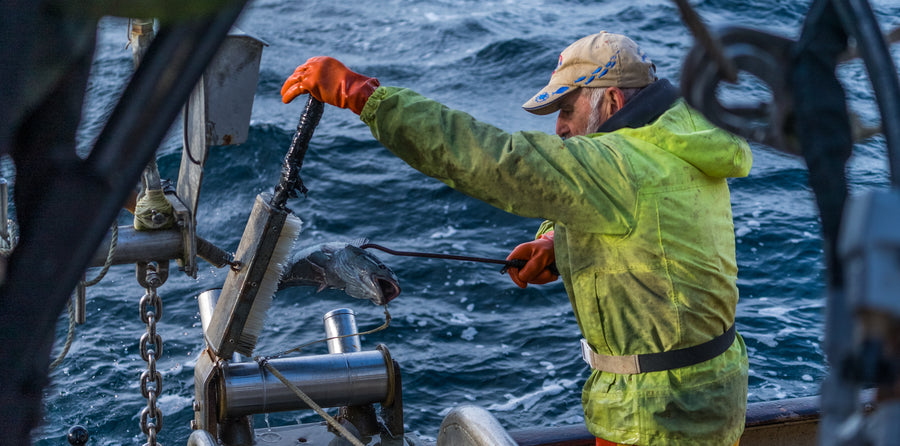 Alaska Gold Seafood is the fish caught and processed by Seafood Producers Cooperative (SPC) owners. We are a fishermen-owned co-op and have been since 1944. But what does that mean?
For us, being a co-op evokes pride, integrity, quality, community, and more. As a fishermen-owned co-op, fishermen are the owners of our company. We own our Sitka, Alaska processing plant and we own the processes in how our customers are served and how we run our business.
Since our inception on May 12th, 1944, our co-op has helped to support a traditional way of life for fishermen and preserve the independence of what is, by nature, an independent way of life. As a cooperative, we are built on the support of our fishermen-owners.
We pride ourselves on remaining uncontrolled by corporations and unknown investors. Throughout its history, SPC has remained independent—for fishermen, by fishermen—throughout many ups and downs of the markets and food trends. The Co-op has kept our community of fishermen on the grounds by stabilizing and supporting dock prices for fishermen. Fishermen get what their fish is worth on the market. Without outside entities influencing what we do, profits go to fishermen and not distant investors or other entities more concerned with quick profit than quality.
Producer-owned cooperatives have been helping small quality-focused farmers, coffee plantations, vineyards, and other food producers do what they do best—make quality food—without outside entities cutting corners to make investors happy.
Primary producers of real food, particularly fishermen, have had a long history of being taken advantage of at the marketplace. Fishermen's guilds started popping up well over 2000 years ago in the effort to protect fishermen from the whims of nature and markets. Our Co-op has become a community in which fishermen have banded together in order to control their own destinies, which is better for us and also for our customers.
As an organization owned by ruggedly independent producers who make a living on the ocean, when we as fishermen return from a fishing trip out on the edge and pull into our plant in Sitka, it is our plant waiting to receive our fish. And that extra care we put into the fish results in the highest quality seafood for our customers.
One of the reasons that our Co-op has survived and flourished is our strict adherence to Rochdale's Seven Principles, which give direction to cooperative organizations and have done so since 1844. Staying true to our principles ensures that we remain true to our customers.
We also work to serve our fishermen's coastal communities through processing our fishermen-owners' fish and donating to programs like Sitka's Fish to Schools program and the Alaska Longline Fishermen's Association's Seafood Donation Program with the goal of providing healthy protein to food insecure individuals, families, food pantries/social services and communities.
The other reason that our Co-op has flourished is that we have not lost sight of our quality-focused mission. Quality is the keystone of our Co-op. This tradition of quality began with the very first fishermen's annual meeting taking place in 1944. An expert was brought in to speak at length on how to improve quality. To this day quality is a pervasive theme in all meetings of our fishermen Board of Directors. Quality is so important to who we are because our organization is built on the pride we have in producing our fish for our company. But our co-op's reputation built on quality doesn't derive from just bleeding, icing, and handling fish correctly to produce the freshest quality fish, but also having a relationship based on integrity and transparency with our customers. We are here to serve you.