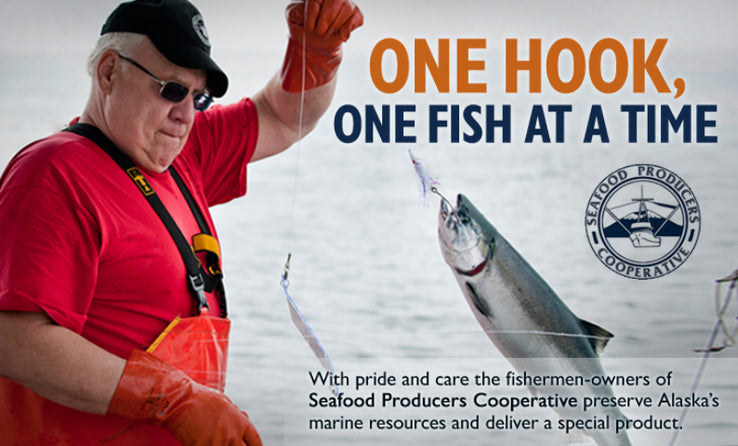 Alaska Gold™ wild salmon are line-caught One Fish At A Time using traditional hook and line methods (aka trolling). Troll-caught salmon are known for ultra-premium quality and sustainability. By catching salmon on hook and line, fishermen have time to carefully handle the salmon and clean it with the utmost of care, producing the freshest taste. If you've had our salmon, you'll know that it's better than any salmon available and that's because it is troll-caught. A troll-caught salmon is  the ultimate in Alaska seafood.
Individually handled, troll-caught salmon are the best salmon available on the market.
Troll-caught salmon are caught on the open ocean, which means they are bright with shimmering silver skin color and have very high fat content and flesh quality. Troll-caught salmon are quickly bled using a micro-pipette to get out every speck of blood, stopping the degradation process that begins the moment a fish leaves the water. Troll-caught salmon are handled One Fish At A Time and are iced and stowed in a matter of minutes. This careful way in which they are handled means that a troll-caught salmon makes for a premium-quality product with a fresher taste. Troll-caught salmon are the choice for chefs wanting to serve the highest quality seafood.
No fish is handled with more care from the time it leaves the water until it is delivered to a customer than a troll-caught salmon from Alaska Gold Seafood. AlaskaGoldBrand.com is where fish caught by Seafood Producers Cooperative members can be purchased for convenient home delivery with free shipping. Seafood Producers Cooperative is a cooperative of quality-oriented hook and line fishermen and is widely regarded as the industry leader in quality standards.
Ocean-bright troll-caught salmon.
Cleaning salmon right after being caught. Photo courtesy of Alaska Seafood.
Action shot. One Fish At A Time. Photo courtesy of Alaska Seafood.