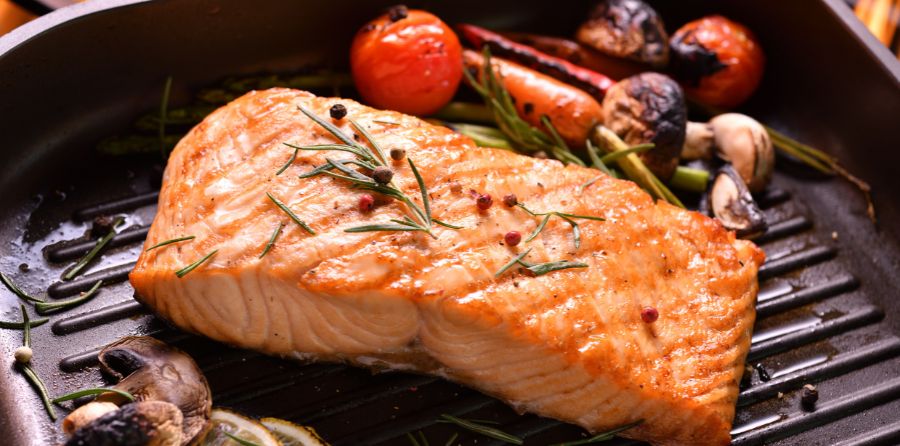 Salmon is a wildly popular seafood offering for many reasons, including its bold taste and numerous health benefits. Many people look to their local grocer or fishmonger for a basic salmon fillet to bake and serve.
However, the benefits of fresh, wild-caught Alaskan salmon cannot be overlooked. Wild salmon is more nutritious than its farm-raised counterpart. In addition, you can enjoy wild Alaskan salmon with the knowledge that the fish lived a free and natural life before making its way to your plate.
If you wish to serve fresh Alaskan salmon at your next dinner event, read on for seven of the best ways to prepare it.
Baked in Parchment
Spread out a large rectangle of parchment paper on your workspace. Place a few slices of lemon on the parchment, followed by four portions of coho salmon with the skin removed. Season with salt, pepper, thyme, a drizzle of olive oil, and a generous pat of butter.
Fold the parchment into a package, starting with a double fold at the top, then folding the ends in. Make sure no air can escape through gaps or crevices. Pop the parchment package into a 400-degree oven for eight to 10 minutes.
Tip:
If you don't have parchment paper on hand, try aluminum foil. It's a little easier to fold, anyway! The idea behind sealing your sockeye in a package like this is to prevent it from drying out in the oven.
Seared in the Pan
Heat a large sauté pan with a few tablespoons of ghee (clarified butter). While it's warming up, season four salmon fillets with salt and pepper. Once the pan is warm but not smoking hot, drop in your portions of salmon, seasoned side down. Cook for three to four minutes, then flip each fillet over to cook for a few minutes on the other side.
Once the salmon portions begin to flake a little bit on the outside, take them off the heat. They'll still be slightly rare in the middle and finish the cooking process as they cool.
Poached in Wine
Take out a deep skillet, preferably one with walls and a lid. Add a cup of white wine, three cups of water, and the juices of one lemon and one orange. Toss in a couple of sprigs of dill and thyme while you're at it. Bring the poaching liquid to a simmer.
Turn your attention to your Alaskan salmon portions and season them with sea salt. Drop them gently into the simmering poaching liquid and cover the skillet. Let everything continue to simmer for five or six minutes, or until the salmon portions are just cooked through. Avoid letting the liquid boil—keep it at a gentle simmer.
Serve the salmon immediately, or allow them to cool slightly before transferring them to the fridge for later.
Wrapped in Pastry
Grab a package of puff pastry sheets from the store, or make your own if you're inclined. Lay out a sheet of pastry on a baking sheet coated in cooking spray. Rub it down with olive oil and sprinkle a layer of breadcrumbs over it, adding herbs and spices as the mood strikes you.
Now lay out your salmon, preferably sockeye, right down the middle. Cut the puff pastry on both sides of the fish into one-inch strips. Fold and twist those strips over the salmon as if you're making a fishy twist on Beef Wellington. Brush the whole thing with egg wash and bake in a 400-degree oven for 25 minutes.
Cooked on a Campfire
Bring your fresh salmon portions outside to cook over an open campfire! While the coals heat up, break out a roll of aluminum foil and tear off two sheets a few inches larger than your salmon. Lay the salmon down on the first sheet, then top it with salt, pepper, and lemon slices. Use the second sheet to cover all the ingredients completely, and crimp the edges so the foil pack remains secure.
Place the foil pack on the hot coals and relax around the fire as it cooks. Flip it over every eight minutes, and have a meat thermometer handy to check for doneness. Remove it from the coals once its internal temperature reaches 145 degrees Fahrenheit (25 to 30 minutes).
Broiled With Honey
Preheat your broiler to its "high" setting. Pat your salmon dry and season it with sea salt before placing it on a foil-lined baking sheet.
Now, create a glaze by melting a few tablespoons of butter in a pan with three smashed garlic cloves and equal parts honey and sriracha sauce. It'll be ready in about two minutes, so watch the clock! Take out the garlic pieces and divide the glaze in half, using one half to coat the salmon and reserving the other half for serving.
Pop your glazed salmon onto the middle rack of your broiler, about six inches from the heat source, and let it cook for six or seven minutes. Serve hot and fresh with a side of the spicy honey glaze!
Roasted Low and Slow
This method is simple but remarkably effective in creating a tasty salmon dish. Preheat your oven to 250 degrees and line a baking sheet with parchment paper. Place a large salmon fillet on the sheet and drizzle it with enough olive oil to lightly coat it. Sprinkle on salt, pepper, and other spices or herbs if you wish.
Bake the salmon in the oven for 25 to 35 minutes. When it's done, it should flake slightly when you poke it with a toothpick or paring knife. This salmon dish can be served warm or cold—consider adding it to a sandwich for a protein-rich meal on the go!
There are dozens of ways to serve fresh Alaskan salmon, from baking to poaching to roasting over the fire. Depending on your preferred flavors and the methods available, one of these recipe ideas could turn salmon into your favorite meal. Why not try a bite of wild-caught Alaskan salmon today? Peruse the options available here at Alaska Gold Seafood and get inspired!