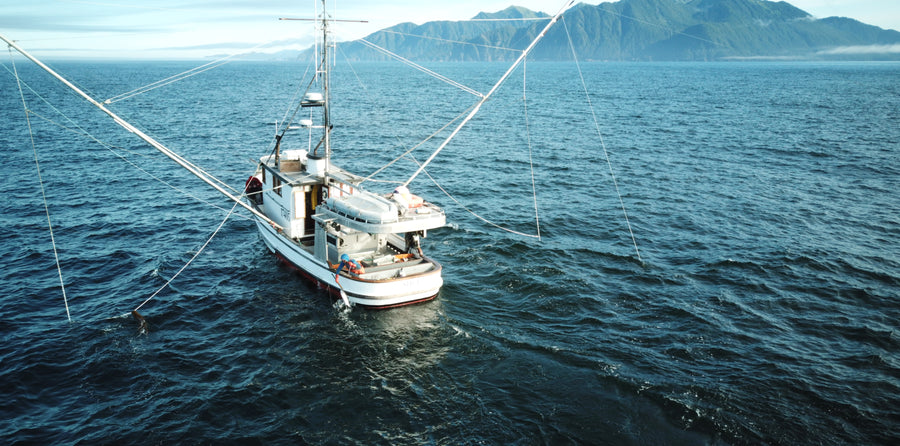 The fishermen-owners of Seafood Producers Cooperative (SPC) catch our Alaska Gold Seafood with pride. Since our livelihoods depend on the health of our planet, we understand our responsibility to protect the oceans. We support fisheries as much as they support us. How we fish today affects the quality of our food, the health our oceans and the prosperity of coastal communities tomorrow. Alaska Gold strives to provide the best, most sustainable option in wild seafood. Our commitment to sustainability depends on fishery management, low-impact gear and limited food waste.
Fishery Management
Alaska is a model of responsible resource management. In fact, sustainable resource management is written into the state constitution. Responsible fishery management means that scientists closely monitor wild fish populations to prevent overfishing. Fishermen also obey catch limits designated for each species and report each fish they catch. These science-first principles protect wild Alaskan fish populations from the damage common to populations in other parts of the world. Alaska's strict fishery management guidelines ensure that generations to come can enjoy wild Alaskan seafood.
Low-impact Gear
From our fishing methods to our gear to our packaging materials, we aim to minimize our impact on the planet. Our fishing techniques ensure that we have a minimal impact on the ocean. SPC fishermen use hook and line methods that limit bycatch and avoid damage to the ocean floor. While large fishing nets scrape the ocean floor and lead to massive amounts of bycatch, hook and line fishermen can target specific species. After our fishermen deliver their premium quality fish, we pack their catch with low-impact packaging materials. The insulators we use for most orders are compostable and we've also begun using an insulator made from recycled cardboard.
Limiting Food Waste
Did you know that much of the 'fresh' seafood you see in the grocery store goes to waste? Shipping our seafood frozen extends the 'shelf live' of our product and also limits food waste. You can store Alaska Gold seafood for months in a home freezer, meaning you don't need to worry about your seafood going bad before you have time to eat it. Simply store your seafood in the freezer; thaw a portion whenever you're ready to cook; and enjoy! Read more about why frozen seafood is the best choice here.
In addition to limiting grocery store waste, we limit our food waste when packing our products. At Alaska Gold, we're committed to using as much of the fish as we can. Two non-traditional items that we offer are our Easy Halibut Meat and our Black Cod Bites. These items are of the same quality as our fillets, but made with fish that otherwise would have gone to waste. Some customers miss how good these two items can be. Both our Easy Halibut Meat and Black Cod Bites are great for creative preparations like soups and quick stir fries.