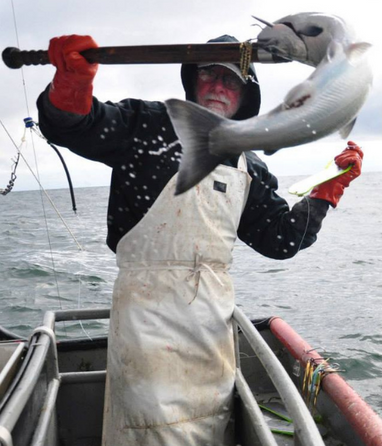 Charlie originally hails from Omaha, Nebraska and came to fishing after being a smoke jumper out of Fairbanks, Alaska, a job he did during summers while being a student in Missoula, Montana. A week on the water with a friend who was a hand troller in Southeast Alaska got him hooked and led Charlie to believe that fishing was easier than jumping out of a plane into fires. "The fact that I survived it all, all the mishaps and adventures, is miraculous."
More than 40 years in Alaska have taught him that making a living fishing is not as easy as it looks. "There is a steep learning curve. Most everything in fishing takes place below the water and you have to be able to read patterns to make educated guesses about what's happening below the surface." Charlie took a leap of faith to make a living while fishing in Alaska. 
Once Charlie figured out how to catch more fish, he had to learn how to make a living on the water. "I learned the hard way," he tells us again. Charlie delivered to all kinds of operations thinking he was getting hot prices. In contrast, "with Seafood Producers Cooperative, I am getting what the fish are truly worth. Through the ups and downs of the market, you consistently get the fairest price as a co-op member and the co-op has always been there to support members, whether it be with gear purchases, ice, processing, vessel insurance, and even college scholarships for members' families." Charlie takes pride in the emphasis on quality apparent among the member-owners of SPC and says that the fish he delivers to SPC is handled with the same care as the fish he serves to his friends and family.
The Moore Family Fishing Boats Parked Together.
Jim and Pam Moore of the F/V Aljac have been Alaskan commercial fishermen since 1971.  Fishing has always been a family operation for the Moores.
Ever since their children were 4 months old, they have experienced the Alaskan fishing lifestyle, which has included storms at sea and lots of fish. Together, the Moores have experienced unique adventures each and every day. They've watched incredible sea life and gazed at wilderness scenery and, of course, they have eaten lots of fish together. Living in tight spaces has made the family tight, so tight that the Moores' sons, Jonathan who owns the F/V Ocean Belle and Joshua, Captain of the F/V Castaway, are also fishermen and Seafood Producers Cooperative members.
Seafood Producers Cooperative enables fishermen members, like the Moore family, to stay true to traditional hook and line fishing methods that not only bring premium quality seafood to our customers' plates but allow our fishermen to continue fishing for generations to come. 
Fisherman Charlie Piercy has been an owner of Seafood Producers Cooperative for over 30 years. Like a lot of Seafood Producers Cooperative owners, Charlie came to fishing from a completely different vocation. Lots of our members are former teachers, physicists, or artists. We even have a former astronaut who fishes for the co-op! Charlie used to be a chemical engineer in Port Angeles but came to fishing because of the unique lifestyle.
Charlie's wife Sally is also a very crucial part of the fishing operation, so in a sense they are a "Mom and Pop operation." Charlie and Sally started hand trolling summer 1978 in a 16-foot skiff, the "Edris E." They moved up to a 19-foot homemade kit cabin-cruiser, the "Slithery D" for about 3 years, and they began power trolling on the 37-foot "F/V Ann" in 1983. Charlie started fishing full-time in southeast Alaska in summer 1986 and bought their current boat, the 42-foot "F/V Tuckahoe" in fall 1986. As Sally notes, "all 3 kiddos crewed at various times over the years, which is why about a dozen years ago, Charlie declared us a Mom and Pop operation, as I join him for a part of most summers."
Read more about Charlie Piercy's fishing stories in this account of what it's like delivering line-caught salmon.
Fisherman Norm Pillen is the president of our co-op's board and a long-time member of Seafood Producers Cooperative. Within our fishermen-owned co-op, fishing and family go hand in hand. Many of our fishermen grew up fishing with mom and dad, learning the trade, and have passed on the fishing bug to their children.
Raising children on fishing boats is no small endeavor. Recently, our co-op Board President Norm Pillen shared a photo memory of fishing with his daughters years ago. 
"That summer I remember so many days of fishing hard, long days, and taking breaks to make sandwiches for the kids. We had a 12-volt TV that you can see in that picture and the only tape we had was Bugs Bunny, which they watched over and over when mom and dad were fishing. But they learned a lot of important lessons on the boat. Firstly, how to follow directions. They learned to always wear their life jackets and to always hold on to the rails of the boat with one hand. They learned to appreciate nature and the value of hard work. They were young, but I think our daughters took good memories and lessons from those experiences."
Seafood Producers Cooperative producer/owner Linda Behnken has a long history of advocating for sustainable seafood and the local community small boat fleet in Sitka, Alaska. Which is also one of the reasons why she is a member of Seafood Producers Cooperative, which has supported small boat fishermen for over 75 years.
Linda, like other members of Seafood Producers Cooperative, believe that the small boat fleet is part of smart management of sustainable seafood for the long term. As a policy planner and resource advocate, Linda has served on fisheries management councils like the North Pacific Fisheries Management Council and the Alaska Fisheries Development Foundation. Linda is also Executive Director of Alaska Longline Fishermen's Association (ALFA). Beyond setting quotas that protect fish and the ocean for the long term, some of the projects these fishermen are working on is mapping habitat, so that fishermen avoid coral rich areas and by-catch of certain species. They are also working on improving fuel efficiency in the fleet, looking at hybrid and electric engines on fishing boats.
Linda started fishing in 1982, crewing on boats during her summers off from Dartmouth. She bought her first boat, a 33-foot Monterrey clipper in 1991. She got her Masters degree at Yale in Resources Management in 1998.
Her two sons, Halen and Rio, ages 11 and 13, started fishing at 6 months of age. In 2008, she bought the Woodstock, a 39-foot troller/longliner, which she uses to troll for salmon and longline for halibut and black cod. She prefers longlining because it gives her more time to spend with her family. While the gear is "soaking" (in the water waiting for fish to bite), she and her family can drop a canoe. "On a good day, trolling is the best, but there are too many decisions to make."
Linda cares about the future of fishing because she cares about the long term health of the ocean. Her youngest son loves running the fishing lines while her oldest is more interested in electronics and navigation. "Together, they'd make a killer fishing team." Like other small boat fishing families, she'd like her sons to be able to live the same lifestyle that she lives now with them and to enjoy the health and beauty of the ocean.
Tad Fujioka
Tad, our board Chairperson, grew up in Southeast Alaska and began sport fishing at 3 years old. He enjoyed it so much that he eventually became a commercial fisherman after many years spent working in the engineering field (while sport fishing on weekends, of course). 
Tad (right, with his daughter) enjoys using his engineering background to fix things on the boat and to analyze information gathered by the Alaska Department of Fish & Game to make predictions about fish abundance. Tad's boat, the F/V Sakura, is known for her speed on the water and Tad's fish are often brought to the dock for processing within just a few hours of harvest.
Brent Miller (left) has been a Seafood Producers Cooperative member since 1988. But not only has Brent been a co-op member; so have his wife Julie and their 4 children—Ben, 23; Janilee, 19; Bryce, 17; and Jenaya, 6. Fishing has been a way for their family to stay together.
What the Millers like about being part of Seafood Producers Cooperative is that it's also like a big family. When the Millers call into the SPC office, they know the office staff.
"What we like about SPC is the personal touch. That's something we value in our family, too. Fishing has changed over the years. The politics, the people. But at SPC, we feel like we're part of the family. We know the people. Even though the co-op has grown, it's still Old School. There's still a personal touch. Our children have benefited from SPC Scholarships. We take pride in the co-op and the fish we deliver to the co-op. Knowing that it's going to good customers who value quality is important. We know SPC values that personal touch that we do."
That personal touch starts with the fishermen, with the fish they catch and the personal care they give in cleaning and preparing the fish for delivery, but extends throughout the cooperative, and to our customers. Read more about why the Miller family values SPC and their focus on community.

SPC member Dick Curran has been a commercial fisherman for more than 30 years. Like many fishermen in Alaska, he's not originally from the 49th state. Raised in upstate New York and Cape Cod, he first became interested in commercial fishing when as a boy, he and his father visited relatives on a remote island off the coast of Newfoundland. His family had been fishing cod there since emigrating from Ireland in the 1700s.
As soon as Dick graduated from high school he and a friend hitchhiked to Alaska where he landed a job at Pelican Cold Storage. The next spring Dick started working as a deckhand, fishing for salmon, halibut and tuna. In 1978 he bought his first boat, which he lost when it rolled over suddenly in stormy waters.
In 1991 he bought the Cherokee, the boat he  fishes today. He has fished from Chatham Strait in Southeast Alaska, west to the Aleutians, specializing in high quality black cod and halibut.
In a further effort to be a good steward of the resource, Dick and his family participate in the Marine Conservation Alliance Foundation Marine Debris Cleanup project with the support of SPC. During the break between fishing the Gulf of Alaska and before outfitting for the Chatham black cod fishery they have removed nearly 30,000 pounds of plastics and marine debris from remote coastal beaches that would have been harmful to local wildlife.
Alaska Gold Brand seafood is caught with pride by the fishermen members of the Seafood Producers Co-op. Our relentless commitment to quality begins with the careful handling of our wild catch the moment it comes on board and continues all the way to when our customers receive our product. So many of our customers have been loyal to us for years because of our dedication to quality and the extra personal touch that we provide.
At Seafood Producers Cooperative, our people are the difference. Skippers, deck hands, plant, and dock workers take great pride in the quality product that they help bring to Alaska Gold Brand customers. Explore the stories of the amazing people that make up our cooperative.