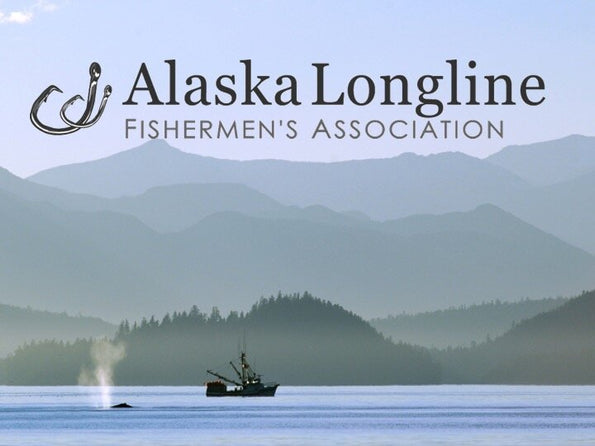 A number of Seafood Producers Cooperative (SPC) members, like Linda Behnken,  are actively involved in the Alaska Longline Fishermen's Association (ALFA), which represents longline fishermen in securing sustainable access to healthy, halibut, sablefish and rockfish stocks. Both SPC and ALFA serve to support and sustain a way of life for the small boat fishermen, who in turn support the coastal ecosystems and communities of Southeast Alaska. Because of their tight connection to the ocean, the small boat fishing community supports the web of life in the greater Tongass Rain Forest region of Southeast Alaska.
Through the Fishery Conservation Network, ALFA functions as a research center by the fishermen for the fishermen and their communities, serving to conserve the resource upon which their livelihoods depend: The Ocean.
Here is some of the specific work that ALFA does:
ALFA members are collaborating by "crowd-sourcing" the huge task of bathymetric mapping of the ocean floor, making it better known where certain species live and which benthic zones (seafloor topographies) are most sensitive. The bathymetric maps that ALFA members are making help fishermen catch target species more efficiently, while reducing catch of non-target species. In addition, these maps help fishermen avoid areas with highly sensitive species, such as corals and sponge.
ALFA is also actively involved in preventing sperm whale depredation of sablefish. For years, sperm whales have taken sablefish off fishermen's hooks. Depredation is estimated to cause thousands of dollars of losses to fishermen each year, and may also be affecting accurate reporting of the sablefish resource. It also poses a safety risk to both fishermen and whales, since whales run the risk of becoming entangled in gear as it is hauled aboard and fishermen run the risk of being injured by whales tangled in fishing gear.  Although serious injury has been avoided to date, ALFA fishermen joined with biologists and bioacoustics scientists to study sperm whale behavior and explore avoidance strategies, so that whales and fishermen can fish together more harmoniously.
ALFA has been active in improving fuel efficiency for fishing vessels. Since 2013, ALFA's Fisheries Conservation Network has been tapping local traditions of marine stewardship, working to find ways that fishing vessels can operate using less fuel. By increasing the efficiency of their vessels, fishermen can save on fuel costs and reduce their carbon impact.
The research ALFA members conduct provides science-based support for the small boat fishermen of Southeast Alaska that minimizes impact on ecosystems and maximizes the socioeconomic benefits for Southeast Alaska fishing communities. SPC partners with ALFA to provide high quality seafood locally and around Alaska to support the FCN work and connect conservation-minded consumers to our community-based fishermen through the Alaskan's Own CSF, which distributes fish caught by SPC members to people in Alaska .
The ocean conservation work ALFA conducts is an economic benefit to the communities of the region, since entire communities depend on commercial fishing. But where ALFA has the biggest impact is in supporting the small boat community, making it possible for current members' grandchildren to fish in the same way that they do, and thereby maintain a fundamentally healthy connection between people, place and nature.