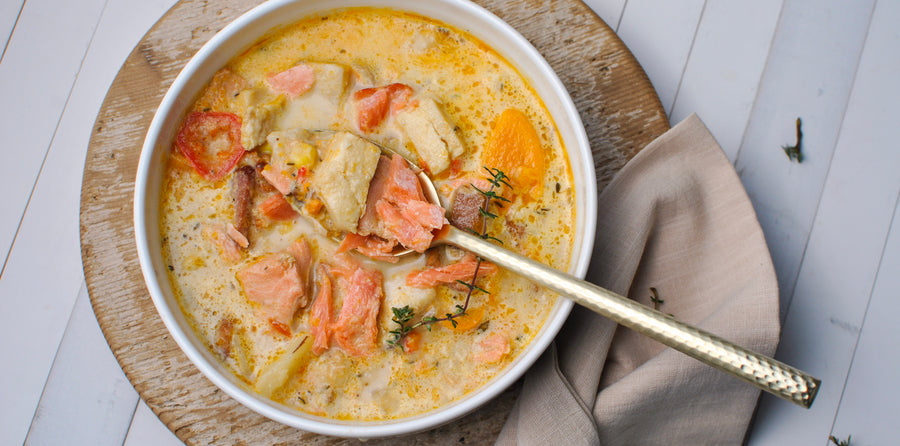 About the Feast of the Seven Fishes
The holiday season is in full swing, and this year Alaska Gold is highlighting a celebration that speaks to all seafood lovers - The Feast of the Seven Fishes.
The Feast of the Seven Fishes is an Italian-American celebration held on Christmas Eve. Traditionally, it is a time for families to share a seafood repast composed of seven courses using a variety of fishes, shellfish, and eel. Typical dishes might include anchovies, clams, octopus and cod. This holiday highlights some of our favorite kinds of seafood, and since we're all fans of fish here, it makes us wonder - why have we never celebrated this seafood extravaganza tradition before?
This year, Alaska Gold is making it very easy to incorporate the Feast of the Seven Fishes into your family's ongoing traditions. And, because we know not everyone can prepare seven seafood dishes on Christmas Eve, we've created this phenomenal Fish Chowder recipe that highlights our Alaska Gold Standard Variety Pack, as well as our Smoked Salmon. The Alaska Gold Standard Variety Pack comprises the highest quality portions of wild Alaska halibut, wild Alaska coho salmon, sablefish/black cod, and lingcod (or rockfish).
The tradition has its origins in southern Italy, where typically on the night before Christmas there was a fast on land meats. So, families would gather to eat seafood. This is a pescatarian feast!
Grab the Alaska Gold Standard Variety Pack and our spectacular Smoked King Salmon, and make this cozy creamy Fish Chowder. Doesn't that sound like a delectably satisfying Christmas Eve meal?
About the Alaska Gold Holiday Fish Chowder
The Alaska Gold Holiday Fish Chowder Recipe highlights the top-quality fish found in our Alaska Gold Standard Variety Pack and marries it with a creamy and garlicky white wine broth. Potatoes, sweet potatoes, onions, corn, and mini bell peppers perfectly complement the fish. We love using sweet potatoes to sweeten and darken the broth naturally. Adding mini peppers cut into rings adds a pop of color and a perfectly cooked, sweet crunch.
Our Smoked Salmon is the secret ingredient to taking this chowder to the next level. A sprinkle or two to garnish each serving is all you need for an extra layer of rich, smoky flavor.
As you begin cooking this chowder, the smell of sizzling bacon will be followed by a savory wave of garlic, yellow onions, and delightful spices. Once you add the white wine, veggies, and fish - your whole house will be filled with a pleasant aroma of what will be enjoyed shortly.
If you'd prefer to not include the bacon, to keep truly pescatarian and in the spirit of the feast, we suggest including more butter or more smoked salmon. Our tasters for the chowder recipe all agreed that the smoked salmon was a brilliant finishing touch that they were obsessed with. In addition, the sweet potatoes and mini peppers make this chowder even more unique and provide a unique color and flavor that everyone unanimously loved. 
The best part is enjoying the perfectly cooked, flaky fish in this chowder. This is a one-pot wonder that requires little effort. Instead of spending time in the kitchen, you can enjoy your loved ones - friends, family, and your pets - all while warming up with this gourmet dinner. Or, if your guests are up for it, ask them to join in the cooking process.
Everyone chopping and stirring in a cozy kitchen can be a great way to make lasting memories, and truly what the holidays are all about.
By Suzy Sakamoto
The Perfect Tide