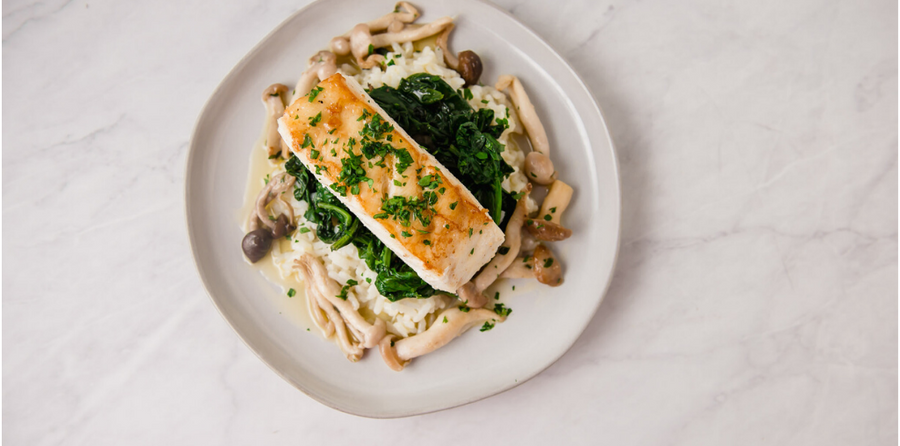 Ingredients
Risotto
1 tbsp. olive oil
1 shallot, chopped finely
2 garlic cloves, chopped finely
1 cup aborio rice
¼ cup white wine
6-7 cups chicken or vegetable stock
½ cup grated Parmesan
salt and pepper
1 tbsp. unsalted butter
Garlic Wilted Spinach
1 tbsp. olive oil
1 garlic clove, chopped finely
3 cups fresh spinach
salt and pepper
Halibut and Wild Mushrooms
1 tbsp. olive oil
8 ounces of wild mushrooms
1 garlic clove, chopped finely
3-4 thyme sprigs
salt and pepper
2

 

Alaska Gold Wild Halibut Portions

 

(6-8 ounces each)
2 tbsp. unsalted butter
Instructions
For the risotto, drizzle olive oil in a large skillet over medium heat, add shallots, and sauté until softened and translucent, about 2 minutes. Add garlic and sauté for another minute.
Stir in aborio rice and pour in wine, continue stirring for 1-2 minutes.
Gradually add warmed stock to rice, stirring until rice is cooked through and creamy. Turn off heat and stir in grated Parmesan and butter.
Add olive oil and garlic to small sauté pan and sauté until lightly golden, about 1 minute. Add spinach and cook until wilted. Season with salt and pepper and set aside.
In another skillet over medium heat, add olive oil and mushrooms and sauté for 2-3 minutes. Add chopped garlic and 1 thyme sprig, season with salt and pepper, and cook for another 2-3 minutes until mushrooms are soft and plump. Remove mushrooms and set aside.
Pat halibut portions dry and season both sides with salt and pepper. Using the same hot skillet, sear halibut until a deep golden crust forms, about 2-3 minutes. Turn halibut over and cook for another 2 minutes until golden brown.
Add butter and thyme and baste the hot herb butter onto the halibut until halibut is just cooked through and sizzling.
To serve, plate risotto in a shallow bowl, top with wilted spinach and halibut fillet. Scatter mushrooms and melted butter around the halibut.