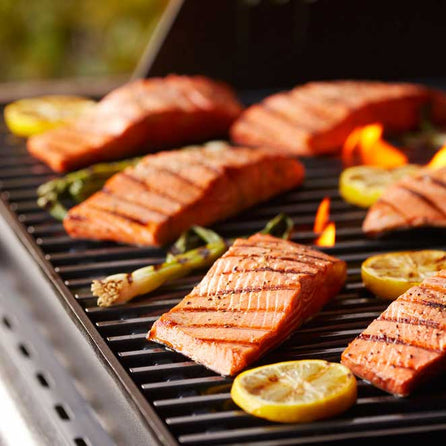 Grill salmon!
Grill time! Grill some salmon!
Grilling salmon has never been easier. Especially with this wonderful lavender salt rub. Here's a super easy rub that is perfect for grilling our Alaska Gold king salmon and coho salmon.
In a mason jar, combine the following ingredients:
3 tablespoons dry lavender (I got mine from my garden, but you can always ask a friend for theirs–let me tell you, there's always plenty)
1/3-1/2 cup coarse sea salt
Zest of one orange rind
Drizzle some olive oil over the salmon. Spread a tablespoon or two of the lavender salt onto your salmon. Grill until this fish flakes nicely. Easy. The lavender and citrus pair well with the salmon's flavors. They are not overpowering and let the beautiful taste of a high quality fish stand out.
Minimal Seasoning Required, Tastes like it just came Fresh Out of the Sea.
Making fish is easy.
As it is with a great cut of beef or pork, minimal seasoning is more than sufficient for a premium-quality fish. A lot of us fishermen in our fishermen's cooperative do not season our fish with much more than salt and pepper. A lavender salt rub is easy and makes for a delicious salmon.