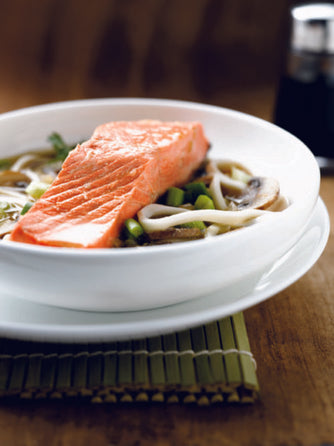 Here's a unique take on poaching salmon using Asian-inspired ingredients like saké, miso, dashi and shiitake mushrooms. This saké-poached salmon recipe works really well with our coho salmon portions.
Ingredients
1 tbsp. butter
¼ cup sliced shallot
2 tsp. minced ginger
½ cup (4 oz.) saké
2 ½ cups (20 oz.) hot water
1 tbsp. red or shiso miso
1 ½ tsp. instant dashi granules (found in international cooking section of grocery stores)
1 can (14.5 oz.) chicken broth
2 oz. (about 1 cup) sliced shiitake or crimini mushrooms
⅓ to ½ cup sliced green onions, reserving half
4 thawed Alaska Gold Coho Salmon Portions
16 oz. fully-cooked udon noodles, kept warm
2 tbsp. chopped parsley
Ingredients
Melt butter in a large nonstick (12-inch) pan or stockpot over medium heat.  Stir in shallots and ginger and cook until softened, about 4 minutes.  Pour in saké, cook until liquid is reduced by half.  Add water, miso and dashi granules; whisk until smooth.  Stir in chicken broth, mushrooms and half of green onions.  Bring to a simmer.  Turn off heat and gently add salmon portions to liquid, skin side down.  Return heat to a simmer.
Once simmering, cover pan and cook 2 minutes.  Turn off heat and let seafood rest 5 minutes or until seafood is opaque throughout.  Remove coho salmon portions to warm soup bowls.
To serve, add 4 oz. udon noodles and one cup liquid to each bowl; garnish with reserved green onions and parsley.
Recipe courtesy of Alaska Seafood