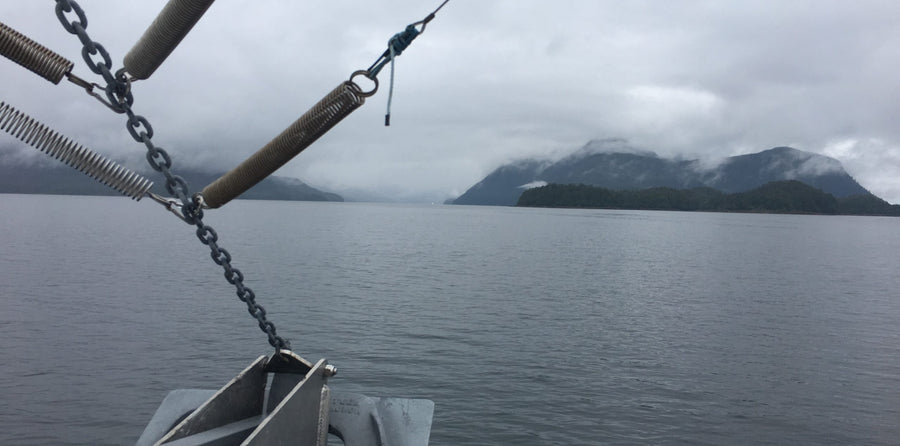 Dear Alaska Gold customers,

When you're out on a fishing boat in Alaskan waters and working 20-hour days, there is nothing like scratch cooking—a simple recipe that makes the most of good ingredients.
Paul's Chowder recipe uses our Easy Salmon Burger Meat.
I wanted to share some context to the experience of enjoying Paul's Chowder out at sea a few years ago with Carter Hughes, who fishes on the 36-foot F/V Astrolabe:
July 24th
We've been running up Baranof and Kruzof Islands through rough seas and stormy waters to turn the corner at Khaz Head on Chichagof Island and a little pause in the weather.
Otters are laying back, relaxing in the water, keeping eyes on the boat as it pushes through the islands towards a good spot to anchor. Carter shuts the engine off in an area of Khaz Bay known as Phiel's Pass, a calm anchorage nestled in a field of small rocky islands.
Carter starts working on a meal as I soak everything in. It's amazing how quiet it gets up here so far from everywhere on a very rare calm and clear evening in southeast Alaska. A loon and some marbled murrelets swim by us, whistling to each side of the boat. Salmon are jumping out of the water. Eagles are talking to each other, singing their gentle songs. Every creature for miles is out enjoying the incredible quiet stillness of the evening and the orange hues of the long sunset. If you haven't been up to these northern latitudes, it's amazing how long the summer sunsets last when you're up near the top of the world. 
Then I hear a deep breath. A whale spout. I orient and spot the whale cruising through the small rocky islands where we are anchored—the islands are just rock outcroppings covered in kelp and a few small Sitka spruce.
Carter puts on Tchaikovsky's Piano Concerto No. 1, interrupting the silence while the whales continue to move in and out of the bay. We sit down and listen to the music, chatting about the day. After a while, deep into the music, I hear a crashing sound outside. Like a small bomb or the report of a really loud rifle reverberating through the islands and the bay, all the way up to Khaz Head. Two whales are making their way through the small bay where we are anchored. The whales are breaching, jumping high, their entire bodies leaving the water and crashing. A whale just feet from the bow of the boat comes completely out of the water. The vibrations are like bombs and the boat starts bobbing in the still water as if it were a rubber duck in a bathtub. The sounds are incredible. Nature's symphony in a fine duet with the Royal Philharmonic.
As if it couldn't possibly get any better, Carter hands me a bowl of really delicious chowder. And it really hits the spot on a cool evening after a slog through stormy seas. "The recipe's from Paul on the Pacific Flyer, who we saw today fishing heading back to the Cape." Carter shows me his journal where he had scrawled the recipe, which I'll share below.
Ingredients:
Easy Salmon Burger Meat—one 1-pound package (here, a fisherman might use leftover pieces of salmon fillets)
2-3 strips, bacon
1 onion, diced
8-12 red potatoes, diced
4 Carrots, diced
8 cups Chicken broth
1 cup cream (milk or half & half will be too thin)*
2 Celery stalks, diced
Fresh Tarragon
Thyme
Dill
Black Pepper
Instructions:
Cook bacon pieces separately. Heat 1 to 2 cups chicken broth. At same time sauté veggies in olive oil. Add bacon to chicken broth and mix in some thyme, tarragon and dill. When veggies are two-thirds done, add to chicken broth and spike again with chopped seasonings. When veggies are fully cooked spike again with chopped seasonings and Easy Salmon Burger Meat. When fish is cooked through, add cream and simmer for 15 minutes (don't boil cream!).
*For a dairy-free version of this chowder, substitute the cream with a cashew blend. Use 1.5 cups of raw cashews, soak in hot water for about an hour, then blend cashews in a food processor or blender, adding water to achieve a creamy texture.
Enjoy!