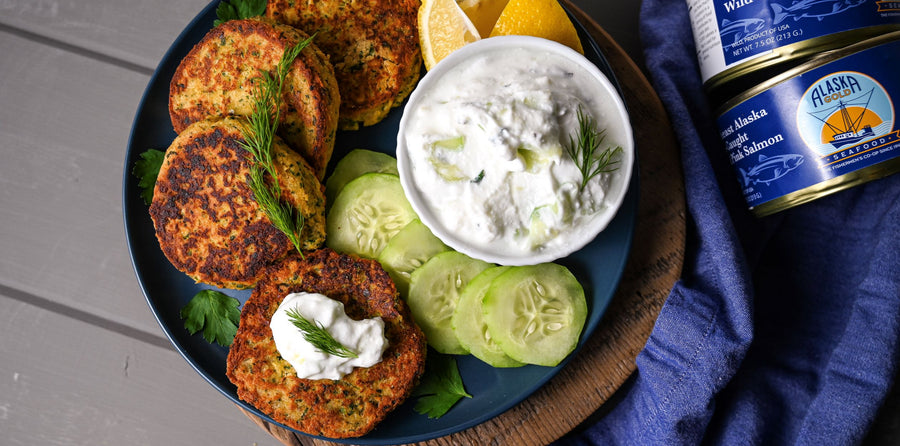 Mediterranean Style Salmon Cakes
With garlic and herbs
yield: 4 patties

1 can Alaska Gold Canned Pink Salmon
1⁄4 cup panko
1 egg
2 tsp fresh lemon juice
1⁄2 cup fresh parsley leaves
1⁄3 cup fresh cilantro leaves
2 tbsp fresh dill, finely chopped
3 garlic cloves
1⁄2 tbsp cumin
1⁄2 tsp onion powder
A pinch of black pepper
A pinch of cayenne
1⁄4 tsp salt, or to taste
2 tbsp oil, for cooking
1⁄2 lemon, squeeze to serve

Pair with tzatziki sauce.

INSTRUCTIONS

Step 1 - Open and drain the can of pink salmon, then set aside.
Step 2 - Add parsley, cilantro, dill, and garlic to a food processor. Pulse until almost finely minced. Then add salmon, panko, egg, lemon, and all the spices. Pulse a couple of times to combine.
Step 3 - Scoop about 1⁄4 of the mixture and form a patty about 3 inches in diameter. Repeat with the rest of the mixture.
Step 4 - Heat a medium nonstick skillet or cast iron on medium to high heat. Add oil to the pan and cook each side for about 2-3 minutes.
Step 5 - Enjoy the Salmon Patties warm, topped with freshly squeezed lemon juice and tzatziki sauce.