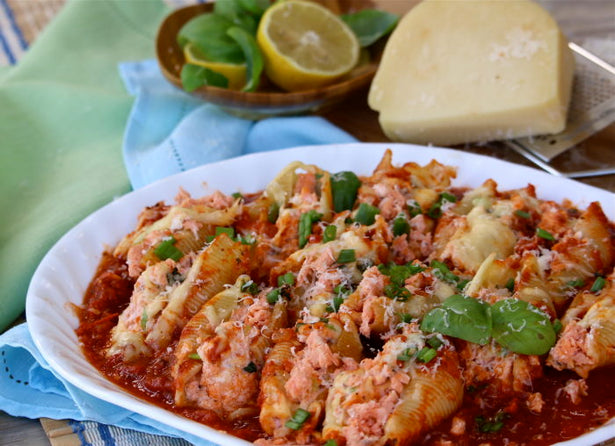 A note from Merry: "The minute I read about the easy salmon recipe contest I knew I had to enter! My family loves salmon; it is our number one fish. Easy salmon in particular is just that ~ easy to incorporate into your weeknight meals! My family loves stuffed pasta shells; they are so easy to make! So why not combine both easy salmon and easy stuffed pasta shells? The results received raving reviews for fresh taste and great texture! I hope you love them too! I love cooking with salmon! Your contest made me brainstorm a new way to use easy salmon and for that I am thankful!"
Ingredients
8 ounces Alaska Gold

 

Easy Salmon, thawed
1/2 tbsp. olive oil
Salt and pepper
1/2 tsp. dried basil leaves
1 tsp. lemon zest
1 tsp. lemon juice
3/4 cup ricotta cheese
1 1/2 cups shredded mozzarella cheese, divided
2 tbsp. chopped chives, divided
12 cooked jumbo pasta shells
1 1/2 cup marinara or favorite pasta sauce
2 tbsp. small fresh basil leaves
1/4 cup freshly grated Parmesan cheese
Directions
Preheat oven to 375°F. In a medium skillet, heat olive oil over medium heat. Add Alaska Gold easy salmon with 1/4 teaspoon salt, 1/4 teaspoon ground pepper, and 1/2 teaspoon basil. Cook, stirring frequently, until completely cooked through, about 4 minutes. Once salmon has cooked, remove skillet from heat. Add lemon zest, lemon juice, ricotta, 1/2 cup mozzarella, and 1 tablespoon chives. Add salt and pepper as desired.
Meanwhile, cook pasta shells as directed on package and drain well. Divide salmon-ricotta mixture into cooked pasta shells. In a 9×9-inch casserole dish, pour 1 cup of pasta sauce. Layer filled easy salmon-ricotta shells in the dish.
Pour 1/2 cup pasta sauce over shells and sprinkle with 1 cup mozzarella cheese. Cover with foil and bake 10 minutes. Uncover and bake 5 more minutes or until cheese has melted. Sprinkle with freshly grated Parmesan cheese. Garnish with 1 tablespoon chopped chives and fresh basil leaves. 
Store leftover pasta shells, covered, in the refrigerator for up to two days.
Variation: Easy Salmon Stuffed Pasta Shells can be served with an alfredo sauce! Simply substitute the marinara for 2 cups of Alfredo. Add 1/2 cup chopped cooked spinach to the Easy Salmon and ricotta filling! Double-yum!
Serves 4