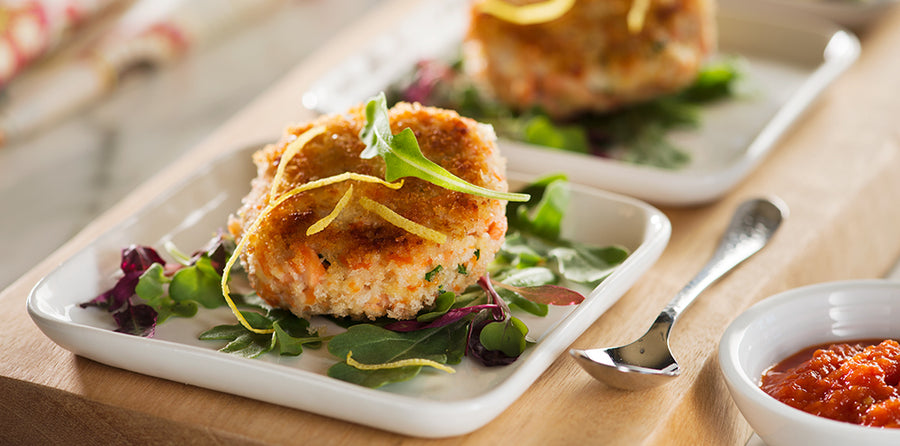 Ingredients
1 package

 

Easy Salmon
¼ c. onion, minced
2 tbsp. finely chopped parsley leaves
2 tbsp. lemon juice
2 tbsp. mayonnaise
1 egg
¾ c. panko crumbs – 4 tbsp. set aside
½ tsp. salt and ¼ tsp. white pepper
Vegetable oil for sautéing
Directions
Mix easy salmon with egg, panko crumbs, mayonnaise, onion, parsley, and lemon juice in a medium bowl. Scoop ¼ c. mixture from bowl and form mixture into 8 patties.
Place in the freezer for about 15 minutes to evaporate moisture. Gently dredge in remaining panko crumbs.
Heat vegetable oil in skillet over medium-high heat. Cook salmon patties until golden brown, about 3 minutes, flip and continue cooking for additional 3 minutes.
* Roasted Red Pepper Coulis (optional–or serve with your favorite sauce)
2 red bell peppers
3 tbsp. olive oil
¼ onion, sliced
1 tbsp. red wine vinegar
salt and pepper to taste
Roast red peppers directly over a gas flame or under the broiler, turning occasionally, until the peppers are blackened all over. Transfer the peppers to a bowl and let cool completely. Peel the peppers and discard the skins, seeds and cores. Coarsely chop peppers.
In a food processor, combine peppers with olive oil, shallot, and vinegar and puree until very smooth. Season coulis with salt and white pepper.
Serves 4 as main course; serves 8 with smaller cakes as an appetizer