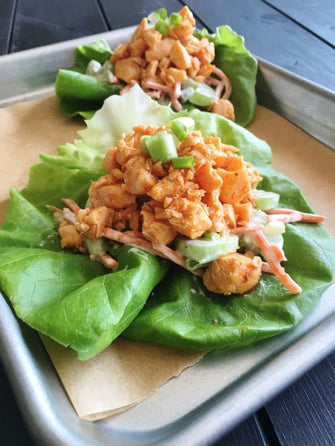 A note from Lauren: "My family loves the flavor of buffalo wings, and on busy weeknights this is the perfect quick meal to fill them up. The warm salmon on top of the cool and crunchy blue cheese salad and lettuce is a crowd pleaser!"
½ cup shredded carrots
½ cup thinly sliced celery
¼ cup thinly sliced green onions
2 tbsp. good quality blue cheese salad dressing
1 package

 

Alaska Gold Easy Salmon
½ tsp. salt
½ tsp. garlic powder
½ tsp. smoked paprika
3 tbsp. unsalted butter
3 tbsp. hot sauce
8 butter lettuce leaves
Directions
In a small bowl stir together carrot, celery, green onion, and blue cheese dressing until evenly combined. Set in the fridge to chill.
In a small mixing bowl stir together salmon, salt, garlic powder and paprika. Using a large non-stick skillet, melt butter over medium-high heat. Add salmon to melted butter and sauté for 3-5 minutes. Stir in hot sauce and turn off heat.
Spoon an equal amount of chilled carrot and celery salad into each lettuce cup. Top with salmon and serve immediately.
4 Servings