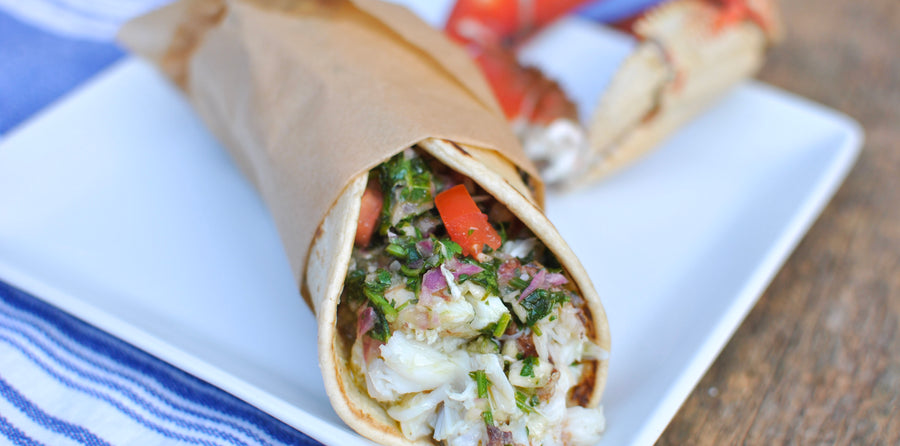 Dungeness Crab Gyros
With a Mediterranean Garlic Herb Sauce
By Suzy Sakamoto, The Perfect Tide
INGREDIENTS
For the Crab Gyros
2 slices of Mediterranean flat bread, toasted
3 Dungeness Crab Sections (about 1.5 cups of crab meat)
3 tablespoons Greek yogurt
¼ teaspoon salt
Freshly ground black pepper to taste
For the Garlic Herb Sauce
1 cup roughly chopped parsley
1 cup roughly chopped cilantro
10 cloves of garlic
½ cup roughly chopped red onion
¼ cup freshly squeezed lemon juice
¼ cup extra virgin olive oil
1¼ teaspoons sea salt
Garnish ¼ cup finely diced tomatoes
Sprinkle of salt
INSTRUCTIONS
To Make the Sauce:
Add the parsley, cilantro, garlic, and red onion to a food processor and blend until finely chopped. Transfer to a small bowl and stir in the salt, lemon juice, and olive oil.
To Pick the Crab: Start by seperating all the crab legs. Collect the crab meat from the body of the crab first, then crack and pull the meat from the legs. Place the meat in a medium bowl and pick through for extra shells. Then gently stir in Greek yogurt, salt and pepper.
To Assemble: Onto a toasted flat bread, add the crab mixture, drizzle with the Garlic Herb Sauce, and top with lightly salted diced tomatoes.