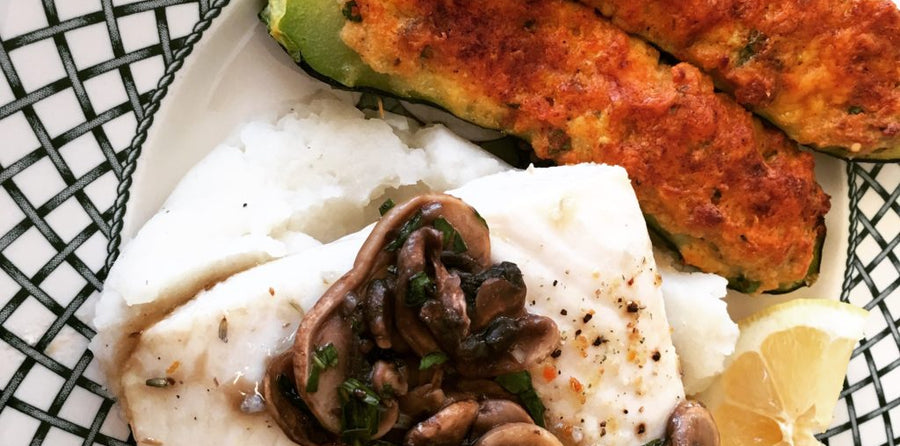 "This is a recipe that has evolved," says Darlene, a customer in Port Angeles, Washington. "My husband didn't use to like halibut as much as I do, but with the tarragon from my herb garden, some lavender salt, mashed potatoes and Annie's shiitake sesame oil, this recipe is a hit. The mashed potatoes add some heft that he likes and the Alaska Gold halibut is fresh and sweet, which I like, and this recipe brings a nice balance for us.  I bake the Alaska Gold halibut at 425 F for 8-9 minutes and this dish comes out perfectly. The whole family loves it."
Ingredients
2 russet baking potatoes
cream, to taste
1 tbsp. lemon juice
1 tbsp. virgin olive oil
Orange-lavender salt

 

to taste
8 to 10 Shiitake Mushrooms
3 oz. fresh tarragon, sliced slightly
2 tbsp. butter
2 tbsp. Annie's Shiitake Mushroom Vinaigrette
Instructions
Mashed Potatoes

Make mashed potatoes from 2 Russet type baking potatoes. Add milk, half 'n half, or cream as you usually would do and mash. Add salt and
pepper to taste, then add butter and whip until smooth.
Seasoned Halibut
2 – 8 oz.

 

halibut portions
1 tbsp. lemon juice
1 tbsp. virgin olive oil
Orange-lavender salt to taste
White or black pepper
Pre-heat oven to 425 F. Place halibut portions on a greased baking sheet (I like to line with aluminum foil). Bake 8 – 9 minutes. Save any juice. Serve
over mashed potatoes.
Tarragon Mushrooms
8 – 10 standard or Shiitake mushrooms, sliced thinly
3 oz. fresh tarragon, sliced slightly
2 tbsp. butter olive oil for sautéing
2 tbsp. "Annie's" brand Shiitake Mushroom Vinaigrette
While Halibut is baking, sauté mushrooms slowly in a small pan (I like to use an 8 inch non-stick pan) until softened – careful to use low heat. Add seasonings and Annie's Vinaigrette. Add any Halibut juices to the mushrooms and spoon over the cooked halibut.