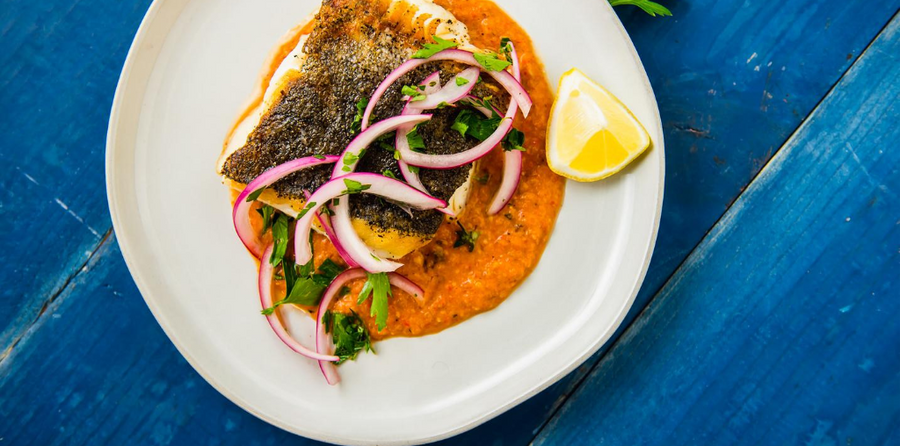 Ingredients
Romesco Sauce
2 vine-ripened tomatoes, cut in half
1 large red bell pepper, cut in half
3 garlic cloves
½ red onion, cut in half
⅓ cup toasted almonds, roughly chopped
2 tsp. red wine vinegar
¼ cup olive oil
½ tsp. paprika
⅛ tsp. cayenne
½ tsp. salt
Pickled Onions
¼ red onion, sliced thinly
½ cup flat leaf parsley, roughly chopped
3-4 sprigs of fresh thyme
2 tbsp. red wine vinegar
Instructions
For the Romesco sauce, pre-heat the broiler and place tomatoes, peppers, garlic and onion on a baking sheet. Broil for 10 minutes, rotating halfway, until vegetables are charred.
Remove from oven and cover with a sheet of plastic wrap. After a few minutes, remove the skins of the vegetables, add the flesh to a food processor with the chopped almonds, red wine vinegar, olive oil, and spices, and blend sauce until smooth.
For the pickled onions, add the sliced onions, herbs, and vinegar to a bowl and toss to combine. Set aside.
Heat a cast iron skillet over medium-high heat and drizzle in a teaspoon of olive oil. Pat the black cod portions dry and season both sides with salt and pepper.
Sear black cod skin side down until skin crisps, about 4 minutes. Flip and cook other side for about 3 minutes until lightly golden brown. Once done, set aside and keep warm.
To serve, spoon a few tablespoons of Romesco sauce onto a plate, add seared black cod, and top with pickled onions, herbs, and lemon wedge.