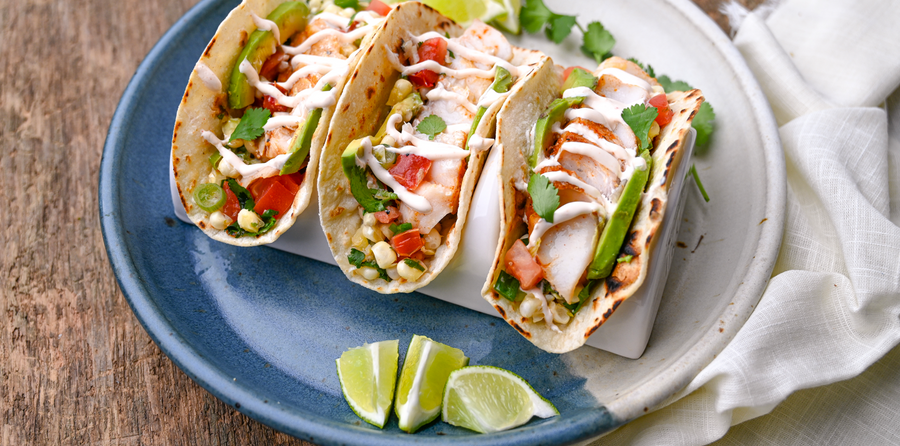 Black Cod Tacos Recipe
INGREDIENTS
Seasoning the Black Cod
4 Alaska Gold Black Cod filets
1⁄2 tsp Lime zest
1 tsp Chili powder
1⁄2 tsp Smoked paprika
1⁄2 tsp Cumin
1⁄4 tsp Garlic powder
1⁄4 tsp Onion powder
1⁄2 tsp Salt
1⁄2 tsp Black pepper
Corn Salsa
2 Corn on the cob, or 15 oz. can of corn
2 cups Tomatoes, diced
5 stalks Green onion, chopped
1⁄2 cup Cilantro leaves, chopped
3 cloves Garlic, minced
2 tbsp Extra virgin olive oil
1 Lime, zest and juice
1⁄2 tsp Salt
1⁄2 tsp Black pepper
Crema
1 cup Sour cream
1 tbsp Tapatilo hot sauce
1 tbsp Lime juice
To Assemble
Corn tortillas, warmed
Avocado
Fresh lime to serve
INSTRUCTIONS
To Make the Corn Salsa
Cut the corn kernels off the cob and place in a large bowl.
Mix in the rest of the salsa ingredients and set aside in the fridge until ready to assemble.

For the Black Cod

Preheat the oven to 400F degrees.
Place the black cod filets on top of a parchment paper-lined sheet pan.
In a small bowl, mix all the spices and rub evenly onto each filet.
Cook for 12-15 minutes, until internal temperature of 135F.

Spicy Crema

Mix the ingredients in a medium bowl.

To assemble

To a warmed tortilla, scoop the corn salsa, then the seasoned black cod. Top with avocado or
other toppings of choice, then drizzle the crema. Enjoy!