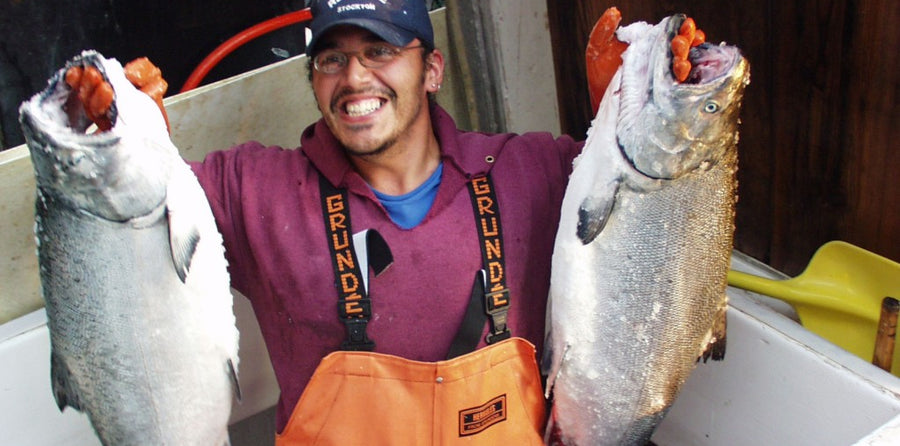 91% of seafood purchased in the United States is imported and up to a third of that is product of illegal, unreported and unregulated fishing. Essentially pirate fish. And pirate fishermen are destroying the world's fisheries by over-fishing.
The beautiful waters of SE Alaska.
The fish offered on SPC Premium Seafood's website is caught in the waters of the North Pacific, much of it in waters off Alaska, the world's model for sustainable fisheries.
SPC wild fish is MADE IN THE USA!
Americans get a huge proportion of their fish from abroad. When it's not coming from pirate fishermen, it is exported from farms, many of which operate at the very outside edge of legality, contaminating both the waters in which they work and the fish they send to customers in the United States. This is a travesty because we have a source for the greatest and most sustainable wild fish in the planet: Alaska.
PC member fisherman Hans Wienberg and the F/V Patience.
With population growth and fisheries depletion by illegal fishing, farming fish will become ever more a necessity. But please choose carefully. When we have such a bountiful source for the best tasting wild fish in the planet, why would you look abroad for fish?
We carefully choose our dog food, looking for brands not made in places known for dubious food handling practices. Why would we not do the same for ourselves when we eat fish?
Support an American industry. Be certain of where your fish comes from. Order wild fish from North America's oldest fishermen's cooperative. Our fish is caught in the beautiful waters of the North Pacific. With one processing plant in Sitka, Alaska, USA, you can be sure that you're supporting a real American industry. Here's our store with products all MADE IN THE USA.