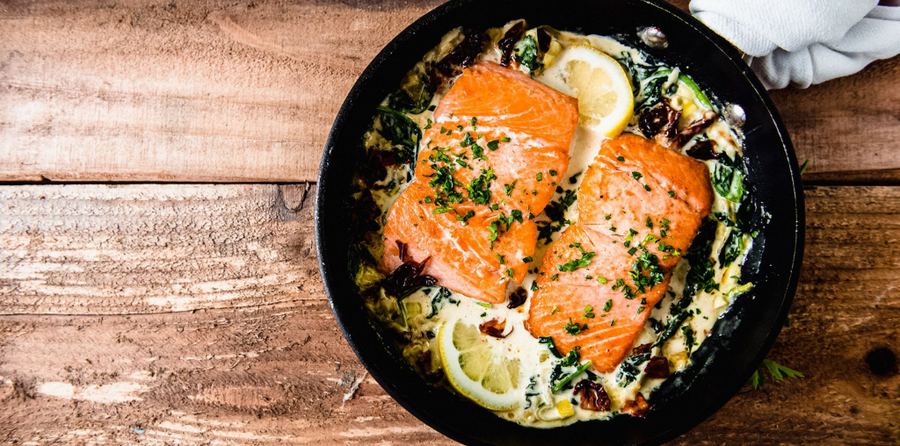 Wild Alaska seafood is a venerable powerhouse source of nutrients and is of the highest quality of lean proteins. Alaska seafood is a complete and highly digestible protein, which means that the amino acids are readily absorbed by the body. Low in saturated fat, high in heart protective monounsaturated and polyunsaturated fats, Alaska seafood also boasts a complete array of essential amino acids, which help repair and rebuild muscles, making seafood a great meal for athletes recovering from a workout.
While being relatively low in calories, Alaska seafood is high in vitamin D. Did you know that 41% of adults in the United States are deficient in Vitamin D? Six-ounce portions of our wild salmon and sablefish  contain 90% of the recommended daily intake of vitamin D. Vitamin D has numerous health benefits to our lives and particularly those of us in northern climes do not get nearly enough of it. Alaska seafood, particularly wild salmon and black cod, contain plentiful Vitamin D and all of the wonders this vitamin brings for our bodies. In addition to strengthening teeth, bones and our immune systems, vitamin D can help curb depression, maintains good blood pressure, and acts as an antioxidant removing the damaging free radicals that are produced in our cells from vigorous exercise.
Misty Copeland. Ballet Dancer. Photo courtesy of Alaska Seafood.
Alaska seafood is naturally high in essential vitamins E, A and C and also a good source of potassium, which is an important electrolyte that maintains fluid balance in the body as well as being responsible for proper muscle contraction and transmitting nerve impulses.
Just about the only way to get the Omega-3 fatty acids DHA and EPA recommended by health specialists for heart and brain health is by eating fatty fish from cold waters. Our Alaska Gold Wild Salmon, Sablefish, and Albacore Tuna are some of the fish with the highest concentrations of Omega-3 fatty acids that exist. These fatty acids reduce inflammation and increase heart and brain health.
DHA (Docosahexaenoic acid) is an important nutrient that inhibits aggregation of blood platelets, making it difficult for blood clots to form and thereby enhancing blood flow. The Omega-3 fatty acid DHA is also an important nutrient for generating brain cells and function for learning, especially in the early brain and nerve development of infants, but is also thought to help prevent dementia in elderly people.
EPA (Eicosapentaenoic acid) thins the blood and is effective against LDL (bad) cholesterol. Most importantly, EPA maintains blood and blood vessel health. EPA can help prevent stroke, heart attack, hardening of the arteries, and other coronary diseases.
Seafood is also easier to cook than other proteins. It does not require the cook times that other meats do, for example, and if it's of great quality, like our Alaska Gold Seafood, it requires minimal seasonings. Pull one of our coho salmon portions out of the freezer, put it in the fridge for 24 hours, then in the oven at 425 F for 6-8 minutes with a few basic seasonings.