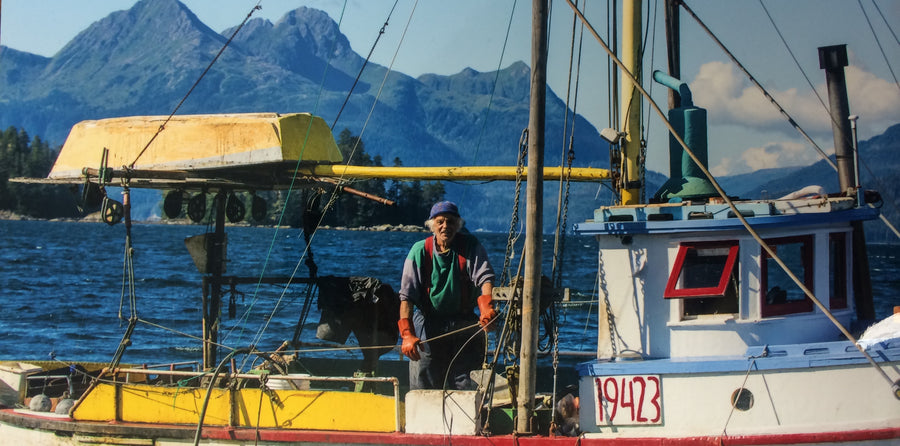 Born and educated in Switzerland, Theo Grutter was destined to go into the corporate world, though that life wouldn't be for him. He moved to Paris and met Clara, a concert pianist who wasn't sure about her destiny either. Theo and Clara then began wandering around the world with their five children. From New York City to Pakistan, they sought out the deeper meanings in life. They lived in many places, finally settling in a small Mexican fishing village in winter and traveling up to Sitka, Alaska for summers out on the beautiful, glacial waters near the Inside Passage.
Theo fishes alone in his small boat for halibut and black cod and periodically takes a week to fast and sit in the forest for a week at a time and meditate on what it means to be wild. What does it mean to live with the world and not just in this world?
Theo recently wrote a book called Thinking Wild, a collection of 115 short essays written in a philosophical, almost poetic voice that bears his soul. Theo exposes many of the inner thoughts of a wandering fisherman. If there were a profession that must understand the interconnections of life, the places where we see the relationships between you, me, the trees, the water, the bear, the fish, it is a fisherman.
What is wild? These are the thoughts of a fisherman who spends a lot of time fishing alone, but in the company of some of the richest life on the planet: the whales, puffins, and fish in the waters around Southeast Alaska.
After reading the book, one should visit the 30-minute YouTube interview with Theo. Having met Theo, though I love the book and find the interview fascinating, he really is a person to be met in person. One can feel a tremendous amount of energy surrounding him as he excited talks about black cod, as he says "the premier fish caught one kilometer below the surface of the sea." While speaking with him recently, he lifted his pant leg to show the massive, disturbing scar left by a ray he met in Mexico. All smiles, Theo is approaching 80 years on this earth, and he brings the youthful enthusiasm of a twenty-year-old.
Here are some excerpts from Thinking Wild:
From the essay "Thank you, Oceans and Forests, you are a hundred sisters and brothers to me":
"Did you ever wonder why the cormorants never build shrimp farms? Why the pigeons never invented cornfields? Why a whale does not wear a tie? Good question. Did you wonder why the poet doesn't just cultivate knowledge as does a scientist, but like to hunt and gather it?
Out here on the ocean I am beyond prudence, politeness, and shame. In this grand immensity, wisdom can run free to do its very vast things like fertilizing my deeper mind. Out here, watching like a good mother over Darwin's neat theorem, the "Good Gardener Principle" comes in view. That principle protects every child of Life from excesses, leading them again and again back to The Way when too much exuberance carries these little bundles of joy away. The wealth of cues in the permissive environment of the wild coaxes my man-specific mind to switch career. My mind becomes less disciplined and more poetic. My mental system of participation gets its chance. […] I can produce more than manure, more than children, more than a boatload of fish. To what would I amount, had I not produced and shed some new blink of light?
Thank you, Oceans and Forests,
you are a hundred sisters and brothers to me.