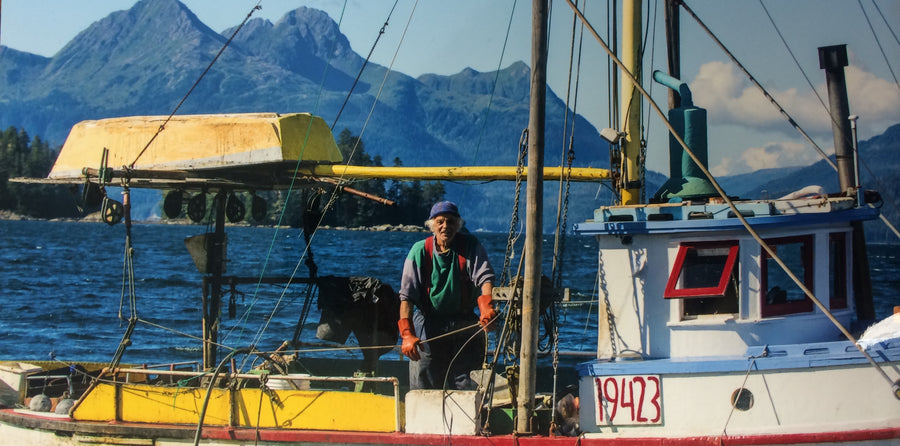 We saw him biking around Sitka just a week ago—full of energy, bouncing along as he always does. 80 years old and in better shape than most people a quarter his age. Theo Grutter, Seafood Producers Cooperative member since 1970, passed away the last Wednesday of a heart attack.
Theo fished the Onyx by himself, long lining for halibut and black cod. A true small boat hook and line fisherman, Theo represents the essence of Seafood Producers Cooperative. A great member who brought energy to everything he ever did.
Born and educated in Switzerland, Theo Grutter was destined to go into the corporate banking world, though that life wouldn't be for him. He moved to Paris and met Clara, a concert pianist who wasn't sure about her destiny either. Theo and Clara then began wandering around the world with their five children. From New York City to Pakistan, they sought out the deeper meanings in life. They lived in many places, finally settling in a small Mexican fishing village in winter and traveling up to Sitka for summers out on the beautiful, glacial waters near the Inside Passage.
Theo fished alone in his small boat for halibut and black cod and periodically took a week to fast and sit in the forest for a week at a time and meditated on what it means to be wild. What does it mean to live with the world and not just in this world?
Theo recently wrote a book called Thinking Wild, a collection of 115 short essays written in a philosophical, almost poetic voice that bears his soul. Theo exposes many of the inner thoughts of a wandering fisherman. If ever there were a profession that must understand the interconnections of life, the places where we see the relationships between you, me, the trees, the water, the bear, the fish, it is a fisherman.
What is wild? These are the thoughts of a fisherman who spends a lot of time fishing alone, but in the company of some of the richest life on the planet: the whales, puffins, and fish in the waters around Southeast Alaska.
After reading the book, one should visit the 30-minute YouTube interview with Theo. Having met Theo, though I love the book and find the interview fascinating, he really was a person to be met in person. One can feel a tremendous amount of energy surrounding him as he excited talks about black cod, as he says "the premier fish caught one kilometer below the surface of the sea." We will miss that energy. While speaking with him recently, he lifted his pant leg to show the massive, disturbing scar left by a ray he met in Mexico. All smiles, he was filled with the enthusiasm of a twenty-year old.
Theo's book, Thinking Wild, is not just a fisherman's meditations on wildness and sustainability but thoughts on making peace with oneself and how we all live in this world. Here is an excerpt from the essay "The ocean experience" that sums up all of these themes:
When Theo sails in this way out of himself, he submits himself to a vision larger than his latest memories. Lost memories talk to him again. Memories are retrieved in their powerful originality, not substitutes cooked up by the media. That ocean fishing has a sweet, therapeutic effect on a fisher of the beauty of Life. The fisher gets involved again in greater things and forces than mankind. In such a volcanic moment a spell may break its hold on him. His power from deep down rises up again to stretch his imagination so darn much that he can for the first time clearly picture the consequences of his padded, "non-negotiable" lifestyle on his mindscape, and on the Earth alive.
Just now leaving the angry open sea behind, white rollers still on my heels. My boat, the Onyx, runs me on autopilot through Sergius Narrows bucking a five-knot tidal current, the Chrysler-Nissan purring like a bee. Hoonah Sound lies ahead. The quietness of six hundred square miles of inside water awaits me, with the Tongass National Forest surrounding the scene. I will set there and tomorrow pull my long line gear for halibut the same way a Kalahari woman smoothly dib-dabs, jar balancing on her head, back from the well. What we love to do turns into rhymes and becomes beautiful.
For living my own life in such fullness, I do not want to consult with the crowd. If I had done so, I would be probably some mediocre CEO by now.
May others enjoy the safety of tennis courts, the swing, slide, and playgrounds, the beautiful wooden play-fishes, the gyms and the concert halls. I feel alive and well when I am on the wild, full-blooded playground of the sea. This older brother continuously tells stories to me.
If we were to weep here at Seafood Producers Cooperative we would drown in tears of joy for knowing Theo, and tears of sorrow for losing him.