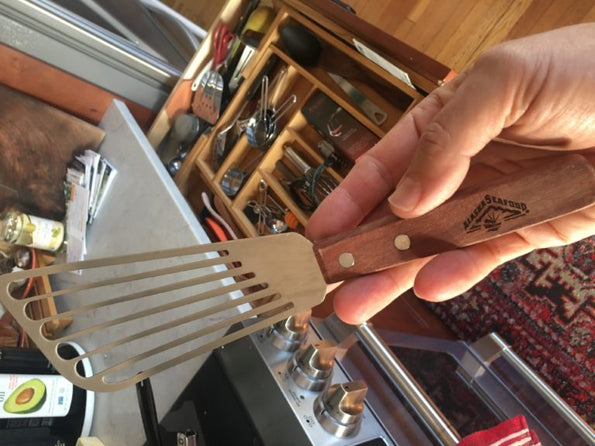 A flexible fish turner or a slotted offset spatula is an essential tool for every chef
We compiled a list of tips for preparing seafood from our Alaska Gold Seafood customers to help each other learn new ways to prepare seafood.
Medine in Kentucky says, "I am grateful for your fish; it is the freshest quality. I like to let my salmon pieces come to room temperature; then I will sprinkle a little bit of fresh lemon juice, salt and pepper. I heat my pan on medium heat until hot. Then I cook the salmon skin side down for 5 minutes, flip it and cook for 5 more minutes. I let it rest for 2 to 3 minutes before enjoying."
Adam from Dana Point, California says: "Here's the tried-and-true best way to cook coho salmon, as confirmed by my super-taster three and seven-year old boys.
Marinade:
1 tsp honey or coconut sugar
1 tbs soy sauce
1 tsp ginger
1 tbs rice wine vinegar
1 tbs vegetable oil
Salt and pepper to taste
mix well
Place coho salmon filets skin side down on wire rack positioned on a cooking tray.  
Apply marinade liberally
Broil on high for 6-7 minutes until skin is lightly browned and cooked mostly through.
Sauce:
1 tbs soy sauce
1 tsp ginger 
1 tsp garlic 
1 tbs rice wine vinegar
1 tbs sesame oil
1 tsp (+/-) Huy Fong Foods Chili Garlic Sauce
Salt and pepper to taste
Serve over rice with chopped scallions and dumplings. "
LuAnne from Ferndale, Washington says "My favorite way to prepare coho salmon fillets is in the oven 45 minutes at 200 degrees. You can top it with almost anything from Italian dressing, a miso paste topping, soy sauce, just about anything. One of my favorite toppings is to salt and pepper the salmon, let it set for 30 minutes then a layer of mayonnaise and then a layer of Pesto on top of that. So Good. You can't screw up this fish unless you overcook it!" Yes, low and slow, is how many of us cook salmon.
How to prepare Salmon Blueberry Salad from KD in Lake Tahoe, Nevada:
"Take about 4 to 5 oz, (this is about 50 to 60% of a single king salmon portion single serving cut up in small cubes) and on low heat, fry in a small fry pan with olive oil and a small fork worth of diced garlic. (Don't overdo the olive oil. By the time you're done cooking the fish you want the oil almost cooked out. I keep a lose lid on the pan as well to contain the heat for more even cooking.)
During the heat up period take a spoon and regularly move the pieces around in your pan every couple of minutes.  Even in low heat, (I have a gas stove and use as small a flame that I can get on my small burner) you will need to move the fish in the pan at first in order to avoid it from sticking on to the pan. After the first couple of minutes the fish and oil will have come together so this is not a problem, so long as you are patient and keep the heat very low.) In about 8 to 10 minutes you should see all of the pink out of your salmon.
When the garlic starts to brown, drizzle lime juice and soy sauce on to the salmon along with pepper. Don't overdo this. (Sometimes I also add some ground ginger near the end of the cooking process so it doesn't cook out. But don't overdue the Ginger.) The fish is not done yet , but it will get there so keep an eye on it. Every minute turn the pieces over as they gradually brown and keep them moving on the pan bottom.
As the salmon turns a golden brown, hit the fish with a small fork of capers and about 8 to 10 fresh blueberries. Turn everything over in the pan several times so the berries are covered in the heated oil. I then put up the caper jar and by the time I come back to the pan, take it off the heat. You're done. You want the blueberries to be heated but not melting.
I then pour out the pan contents over a small bed of spinach greens. I put a little of dressing on the greens before placing the fish on top in order to avoid drowning the fish in salad dressing. You can add some croutons as well. I also hit it with some fresh ground pepper one more time.
If you do it right there is nothing left in the salmon that remotely tastes like fish. It is something else entirely and it is amazing! It is so good I can't believe how good it is every time I eat this. I realize there are no portions provided in the above, but I am more of a cook than a recipe guy. Good Luck with it!
PS: I cut the skin off two thawed salmon steaks, dice it up into small cubes and keep them in a plastic container and eat them over a two day period. This dish takes about 15 minutes if you buy the pre-boxed spinach greens at the grocery store and is better than anything you'll ever get in a high end restaurant.
Tad from Sitka says "Put mayo on halibut to keep it from getting dry. There are a number of halibut and other seafood recipes with mayonnaise, like the Halibut Olympia (also known as the Caddy Ganty) and all of these recipes with mayonnaise keep the halibut from getting dry."
Annette from Alta, California says, "I am hooked on the Coho Salmon. I bake mine. Plain and simple. I also love the Black Cod (Sablefish). My favorite is to bake it. The Halibut is awesome and guess what, I bake it too. With the halibut I put guacamole on the top of it just before serving. So yummy!"
Robin's recipe for Alaskan cod will work perfectly for our halibut.
Oven Fried Alaskan Cod ~ dredge pieces in flour seasoned with salt, pepper, seasoned salt, garlic and onion powder. Dip dredged pieces in beaten egg white, then roll in panko crumbs seasoned with parsley, garlic powder & parmesan cheese. Place on well-sprayed cookie sheet and spray tops of fillets with cooking spray. Bake at 400 degrees until golden brown & fish flakes easily (test for doneness).
Lynn says that she likes "a simple pan sear with some butter, lemon, garlic and salt and pepper."
Jim in Wisconsin says, "I like to take one of my thawed Keta Salmon portions and bring it up to room temperature.  I then heat (number 6 on electric stove) up a small fry pan with some EVVO.  I then put the fish skin side up and let that sear and cool for a minute and a half.  Then turn over and put skin side down for another minute and a half.  Lightly salt and pepper after putting on a plate.I will have some veggies prepared (steamed Broccoli), and put 2 pieces of Ezekiel 7 grain sprouted bread in the toaster and spread with Smart Balance."
Kat in Colorado says, "First off. We love your fish! All of them! My favorite way is in a parchment bag, you Can top it with a little dill and a lemon slice. If you like but it's good just on its own. It's nearly impossible to overcook using the parchment bag."
Robert in Huntsville, Texas says, "We soak our salmon in milk after thawing, then we put our salmon in our Air Fryer for 12 min, remove the skin, and garnish with lemon………..It's Fantastic!"
 John from Orlando, Florida recommends that you "take halibut fillets out of freezer, immerse in pan of cold water 20 minutes, open, rinse, pat dry with paper towel. Sprinkle liberally with lemon pepper, cook in cast iron skillet medium / medium high heat 1 tablespoon butter with 1 tablespoon olive or canola oil 4 to 5  minutes each side. Its great! Freezer to table in 35 minutes."
Barry from Chicago says, "Poke your fish. When I think my salmon is near done I press down on the fish and if it flakes easily, I know that my salmon is done. If I don't see the flake fall apart, I leave it to cook for a minute or two more."
Betty in Washington DC likes to slather her salmon in whole grain mustard and bake. 
Rolf in Minneapolis says, "We've been grilling salmon on a gas grill for several years, trying out many different ideas, alder chips, brown sugar glazes and more.   The recipe we always go back to is to marinate king salmon portions a few hours then grill for 15 minutes or so at 425 degrees.
Be sure to thaw your Alaska Gold salmon portions  overnight in the refrigerator and pat dry before marinating.
Grill skin side down without flipping.
When cooked, take a spatula and separate the meat from the skin, leave skin on the grill.
Marinade is as follows:
1/3 cup soy sauce – we much prefer salt free
¼ cup orange juice concentrate
2 tablespoons olive oil
2 tablespoons tomato sauce
1 teaspoon lemon juice
½ teaspoon stone ground mustard
1-2 tablespoon chapped green onions
1 clove minced garlic
½ teaspoon minced fresh ginger root
Pretty simple – fish stays pretty moist and marinade adds some tang without overwhelming salmon flavor."
Rosabel in Levittown, Pennsylvania says, "My family loves my tangerine salmon! So easy. A pinch of salt, ginger powder, honey to taste, basil leaves to cover and tangerine or pineapple chunks atop!  Sometimes I let it sit in the fridge and marinate before baking. Let it stand to room temperature and bake to taste. I like 325 for 15 minutes and dinner is done! YUMMY!" 
Nancy in Waldport, Oregon notes "Oh how we love the coho salmon portions and halibut portions! I offer our favorite recipes for both:
1) For the salmon, we are addicted to cooking with the skin on. We cook in a carbon steel pan over very high gas heat (a wok gas burner with 24,000 BTUs). With a little oil in the pan, cook the fish skin down until the fish EASILY moves around in the pan. The longest cooking time is on the skin side. When it will slide easily, you flip it over for a very short time, depending on the thickness. A flexible fish turner works very well.  The best way to cook fish is to use a digital thermometer that you stick into the fish. That way it can never be overdone. About 120 degrees is best. You can add at the end a chopped mash of garlic and capers if you want. Mmmmm!
2) For the halibut, we love a recipe found online for Alaskan halibut. It is called Poached Halibut in Thai Coconut Curry Broth. This has such a unique flavor and is just plain delicious with the halibut."
Monica in Portland, Oregon notes, "My favorite way to fix my salmon and halibut is using minimal seasonings. For my salmon I bake it in the oven using olive oil, salt, pepper, freshly minced garlic and fresh rosemary. My halibut I cook in a skillet on the stove top with olive oil and salt and pepper. The fish I get from Alaska Gold is so good on its own, it doesn't need much to taste delicious." 
 Like a lot of us in the office, Robin in Jasper, Alabama likes to slow-cook her king salmon. "Cook at 200 degrees in oven for 45 minutes with olive oil and lemon."
Longtime customer Joanna in Northridge, California says "Pan seared or baked with mustard and honey or maple syrup glaze. Yummy!"
Tim in Columbia Station, Ohio notes that "there are many similar online recipes for Black Cod/Sablefish/Butterfish. I make a marinade of Miso, sugar, Sake and rice vinegar. I brush two cod pieces with the marinade, cover with plastic wrap and put in fridge overnight, saving some marinade for garnish. Wipe most the marinade from the fish and place in a med high heat, oiled skillet/fry pan. This fish only needs 3-4 minutes per side to cook…just a quick searing. Before serving I lightly drizzle with some of the remaining marinade."
Note that if you get distracted and dinner plans change, you can keep marinating your black cod an extra day or two. Some people say that the ideal marinade time is at least 48 hours. Try it for yourself and see what marinade time you prefer for your sablefish. Also, 3-4 minutes per side will work, but you can cook much longer. It is nearly impossible to overcook sablefish because its oils are so thick!
A big congratulations to Lon in Mechanicsburg, Ohio who wrote to us: "Today is my last week before retirement after 39 years working at an agriculture firm here in Ohio. Even at 65 years old I am skipping like my grandchildren looking forward to life changes. I have been an Alaska Gold customer for a few years and the salmon is delicious." Lon gets our bulk orders of coho salmon portions.  "Always a consistent taste of quality salmon that satisfies my hunger like no other. So my tip is for all folks 'even thinking toward retirement' to grill that Alaska Gold salmon with a huge smile! I am."
Alan in New York City advises how to create "Michelin-Star Quality Fish."
"How do the best restaurants in the world do fish? They get high quality ingredients, and do their best to highlight their delicious, natural flavors. This is the mindset you should have when cooking Alaska Gold Seafood. Here's how you do it:
Remove scales from skin. After you defrost the fish, remove any scales from the skin (if it has any). Use a paring knife and go against the grain. Do this in your sink, but not under running water. Water dilutes flavor and affects cooking time. You don't want to do this.
Prep – Extract Moisture. Your aim is to remove moisture (water) from the fish and make the natural flavors (fats and proteins) more intense. Pat the fish dry with paper towels. Put onto a raised rack sheet (like what people use to cool their cookies after baking). Then use kosher sea salt over the skin. If there's no skin, then just salt the top side. Optional: add a little bit of sugar to your salt.
Prep – Bring to temperate. Leave the fish out as it comes to room temperature. This may take 10 min or so. As this happens, you will notice water coming to the surface of the fish (because the salt is drawing it out). Remove this moisture by gently patting the fish with a paper towel.
Bring pan to temp. Stainless steel pan is ideal. A quality, heavy non-stick is ok. Start to heat the pan. Put in oil. Make sure the bottom of the pan is completely covered in oil. Sunflower seed oil is good if you want to cook fast and not impart any flavor onto the fish. Cooking in olive oil will give it an olive oil flavor, but will also take longer because it can't be cooked as hot as the sunflower see. I like to cook salmon and sablefish in sunflower seed oil, and halibut in olive oil. If concerned about wasting oil, as long as you don't burn it, the oil can be safely reused.
Add fish. When oil is hot (it will shimmer), gently lay the fish into the pan. It should sizzle. If it's not sizzling, bring the temp up ASAP. You want the oil to be popping. Sauté in french means "jump", as in the oil is jumping.
Cook fish. When the fish is in the pan. LEAVE IT ALONE. Don't poke it, shift it, or flip it. Leave it alone! You aim is to cook it 100% on one side, and to never mess with it. Doing this will caramelize the proteins in a process called the maillard effect. This is where flavor comes from. Chef Gordon Ramsay has a great quote: "No color, no flavor". 
Control doneness. Because you're not touching the fish, it's going to get a nice caramelization on one side. But how do you cook the rest of the fish? Well, if it's a thin piece of fish, the heat of the pan will likely cook it fine. For thicker fish, you control the doneness by scooping the oil out of the pan and pouring it on top of the fish. The hot oil will cook the fish. Do this as much as much as you want. 10 – 30 times. If you watch professional chefs, they do this very fast.
Test doneness. Manage doneness by how it looks and feels. Gently touch the top of the fish. If it's firm, it's well-done. If it's bouncy, it's med. If it's squishy, it's med-rare / rare. 
Rest. Just before the fish is cooked to your liking, remove it from the pan. The side facing the pan should be crispy or browned (if no skin). The crispness is what enables you to take it out (called "release"). Place it on a plate skin side up. Let it rest. Don't poke it. It's still cooking (called "carryover cooking"). How long it rests depends on the thickness of the fish. A thin coho fillet can be just 60 seconds. A thicker halibut piece can be 2 -3 min
Optional acidity  – just before eating you can squeeze a little bit of lemon on there. Putting lemon zest is also another good option. It helps brighten the flavor.

If done correctly, you will have a perfectly cooked piece of fish. If it has skin, the skin will be like hard like a cracker."
As you can see there many different approaches to preparing our Alaska Gold Seafood. If you need a recipe, we've got plenty of seafood recipes here. Don't hesitate to contact us if you get stuck. All tastes are subjective and we can offer opinions that come from a lot of experience preparing Alaska Gold Seafood.