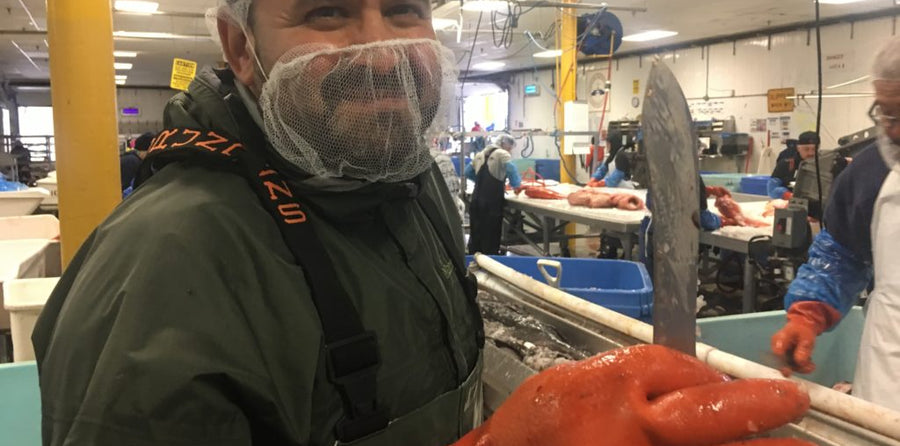 Ruben Torres, our Sitka Plant Manager, is a hands-on leader.
At Seafood Producers Cooperative, the people are the difference. Meet Ruben Torres, SPC's Sitka Plant Manager.
Everything about Ruben is the epitome of the American Dream of starting at the bottom and working one's way to the top.
Ruben was a bartender in Guadalajara, Mexico and knew friends that had come back from Dutch Harbor, Alaska during the crabbing heyday. It became Ruben's dream to go to Dutch Harbor. He saved up and hopped on a plane to Alaska. But he got on the wrong plane and ended up in Sitka. That night, a little lost, Ruben slept on the floor of a church in town.
Ruben soon found work at SPC and began scraping black cod on the line. Over the past 25 years, Ruben has worked just about everywhere in the SPC plant. He's worked at the doors unloading, on the scales grading, as a night supervisor, a brief tenure in the ice house; he was fillet line supervisor for 8 years and spent 3 years as production supervisor.
In between these stints, he worked as a deckhand on a seiner and on a boat with divers harvesting sea cucumbers. This boat work took place on rough seas November through January. "I spent too much time praying to stay alive. I wanted to live on land again," he says.
And so he found his way back to SPC.
Beyond hard work, Ruben's key to success is a genuine understanding of people and instilling an unparalleled loyalty among employees. "We are like family. Each one of our people's success is our success."
Ruben knows everybody in the plant and knows what they are best at. "There's Ralph Fava who has been grading fish for 26 years. Alejandrino Bayango has been at the hoist and heading for 12 years. Saturnino Agas is 76 years old and gets here even before I do. He's been at SPC for 16 years and has never called in sick. José Nuñez, our forklift driver, does the work of two forklift drivers. We used to have two drivers, but José can handle it all. Rigoberto Carlos, over there unloading, is an animal. He is so strong and works so hard. He looks grumpy, but he's a really nice guy. Silvia, moving fish on those freezer racks, can pick up 70 pounds of fillets with ease and keeps them organized. Jerica is on her first day on scales and she's going to do a great job. Abe Gomez is a master as packing supervisor and has been here for 18 years. Ronnie De Guzman, our Fresh Pack Supervisor, is cutting fish on the line right now, but soon will be on the phone behind a computer coordinating orders with customers, TSA, Alaska Airlines, and getting our fish to restaurants and supermarkets in the lower 48. You have to be 'born on the line' like Ronnie, who has lived it all, to understand how this business works. Then there's Ice Man Don Koston–he's been here for 26 years and knows everybody, too. He greets every fisherman that comes to the dock. He's a really special guy."
"Everything comes down to respect," Ruben says. "There has to be a back-up for each position, so we're all cross-trained to offer support and step in when others are out or too busy to keep up. There is no yelling. That doesn't help anybody. It's cold and it's hard work, but you do a better job when everybody respects each other."
Every co-op employee, like the fishermen who own our cooperative, takes on ownership of what they do. They don't have to be told how to do something or why to do something. They are self-sufficient and self-motivated, and that's because of the loyalty instilled by the likes of Ruben.
It's late March and longline sablefish and halibut deliveries are coming through the plant. On a typical day, 70,000 pounds of sablefish might come through the plant and a busy day might see over 100,000 pounds. If you assume a 6-pound average, that's just under 17,000 fish whose heads need to be cut off, guts scraped, racked and frozen or directed through TSA security to get on a plane headed south fresh.
A hands-on manager, a typical morning might find Ruben arriving at the plant at 4:30 and sharpening knives. When the plant is shorthanded, Ruben is the first to put on a hairnet and grab a knife and start lopping heads off sablefish, as he is doing in the picture above.
Like many people in the fish business, Ruben looks much younger than he is. Ruben says it's the "Natural Life" that he leads in Sitka, Alaska. "I get up at 4am, walk to work through a beautiful landscape. Yes, we eat a lot of fish at home and it's healthy." Ruben's wife Zenaida also works on the floor and sometimes cooks for out-of-town visitors to the plant when she's not too busy on the floor.
Ruben took the helm of SPC's Sitka Seafood Plant from Kendall Didrickson who worked in tandem with Craig Shoemaker who retired after 30 years of service to SPC. Shoemaker also worked his way up to Plant Manager, living the dream at the helm of the finest seafood plant in the state of Alaska.