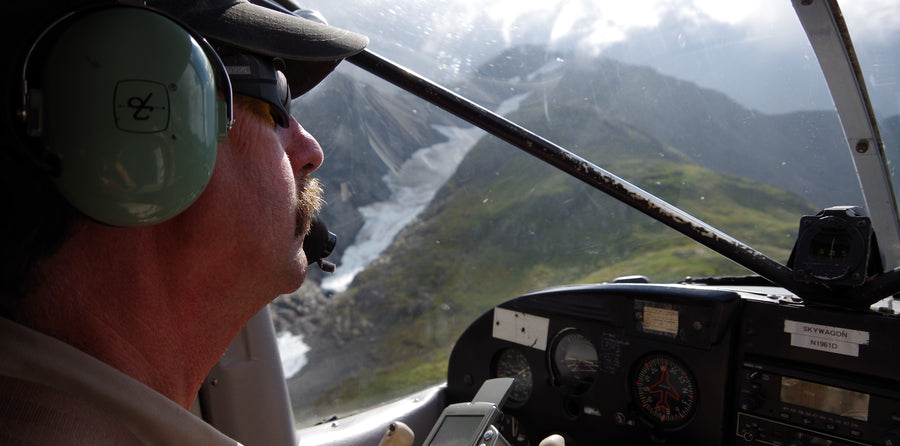 What does a troller do when he's not trolling?
Fishing, of course. And flying.
Seafood Producers Cooperative longlining member for 28 years Kevin Mulligan now takes people out to fish in the fishermen's paradise that is Southeast Alaska. Here he is flying around Baranof Island showing us just how blessed we are to live in this rich, bountiful Fishermen's Shangri-La. I think our favorite part was when Kevin circled us around a huge waterfall where we watched coho salmon struggle up to their spawning grounds. Seeing the coho jump up the waterfall from Kevin's plane made us realize just what a beautiful place Southeast Alaska is, just teeming with life.
Flying through a fisherman's Shangri-La.
A pontoon and paradise below.
15 years ago, Kevin and his wife Karen bought some property in Port Alexander, at the south tip of Baranof Island. They built a gorgeous lodge for fly fishermen and those wanting to do ocean charter fishing for 5 species of salmon, black cod, rockfish, and halibut. Fishermen's Inn.
As a fisherman, Kevin knows the thrill of the hunt and the ecstasy of the catch. It doesn't matter if he's guiding guests for fly fishing steelhead in creeks in the wilderness areas of Baranof Island in May or out fishing for halibut in Whale Bay.
A fisherman's hand
Like all Seafood Producers Cooperative members, Kevin's a fisherman through and through.