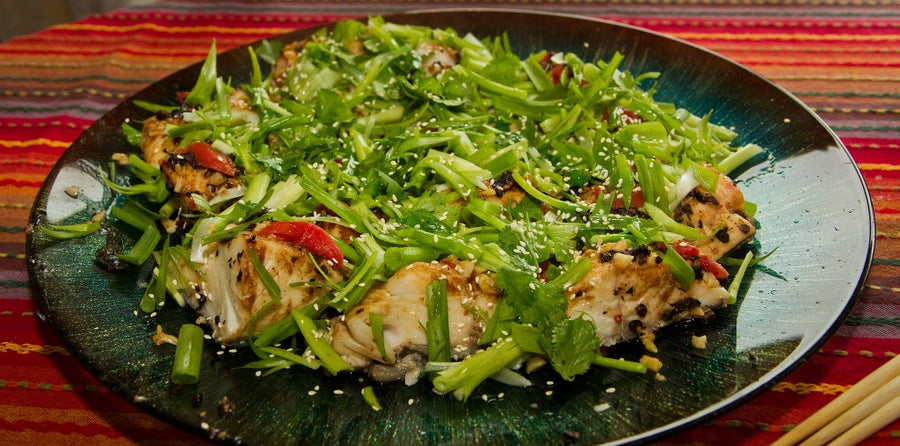 Here is a recipe from Captain Calvin Hayashi, one of our fishermen who fishes on the F/V Seaweed II.
This dish combines the delicious flavors of Pacific Rim cuisine, featuring Alaska sablefish (black cod), blended with Chinese fermented black beans, and Japanese umeboshi (salted pickled plum). This is a dynamite recipe that some of us in the office make for specials meals around the holidays or hosting friends during spring and summer.
Ingredients
3

 

Sablefish (Black Cod) Portions, cut in half, or 1

 

Sablefish Fillet
¼ c. fermented Chinese black beans (dried salted soybeans)
1 tbsp. garlic black bean sauce
3 umeboshi
2 tbsp. fresh ginger
2 tbsp. fresh garlic
10 green onions (greens only)
Hot chili sesame oil
Toasted sesame oil
Peanut oil
Teriyaki basting sauce
Toasted sesame seeds
Instructions
Prepare fish by thawing, removing pin bones, and wiping dry with a paper towel.
Finely chop garlic and ginger, sauté with 1 t hot chili sesame oil and 1 t toasted sesame oil. Julienne cut green onions into 1" strips. Coarsely chop black beans. Remove pit from umeboshi and cut into 1/8" strips
Make a teriyaki sauce for basting (or use a commercially prepared teriyaki sauce such as Yoshida). Combine the following to make your own teriyaki sauce:
¼ c soy sauce, preferably shoyu
¼ c water
1 tsp. finely chopped garlic
1 tsp. finely chopped ginger
2 tbsp. brown sugar
2 tbsp. aji mirin
1 tbsp. sake
1 tbsp. toasted sesame oil
1 tbsp. honey
dash of black pepper
2 tbsp. peanut oil
1 tbsp. hot chili oil
Measure 2 tbsp. peanut oil and 1 tbsp. hot chili oil into small saucepan. Place black cod portions, skin side down, in a bamboo steamer. Lightly baste black cod with garlic black bean sauce. Cover fish with garlic and ginger, and a scattering of chopped black beans. Arrange 3-5 strips of umeboshi on each piece of fish.
Let stand for 15 minutes, allowing flavors to meld. Put steamer in pan or wok with 2 c water. Place lid on steamer and begin cooking at medium high heat. Depending on thickness of fillets, the steaming process will take between 20-30 minutes. Black cod will easily flake when done.
Sporadically drizzle teriyaki basting sauce on each piece, giving additional flavor, and keeping the fish moist. As you drizzle (about every five minutes), rotate steamer baskets to different levels, ensuring uniform cooking (depending on number of baskets).
When fish is nearly done, begin heating the peanut/hot chili sesame oil. When fully cooked, remove fish from steamer and arrange on platter. Top with a generous covering of onions. Lastly, pour hot smoking oil over onions and fish. This searing process completes the cooking and flavor infusion. Lightly sprinkle with sesame seeds. Serve with rice and vegetables or an Asian salad.
This recipe is dedicated to my mother, Yoriko Hayashi, who inspired me to love cooking. Enjoy!