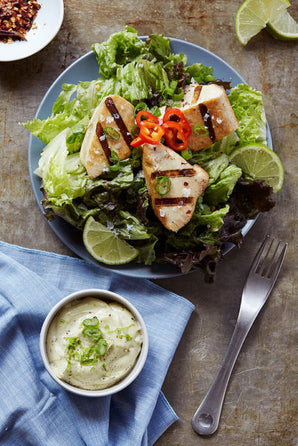 Ingredients
1

 

Albacore Tuna Loin
2 tbsp. melted ghee (ghee is made from simmering butter and removing liquid residue)
sea salt
freshly ground black pepper
toasted sesame seed oil (for brushing on after cooking)
red pepper flakes
sweet red peppers
scallions, thinly sliced
lettuce, micro greens, or fresh greens of your choice
Wasabi Citrus Aioli
½ cup mayonnaise
2 tsp. prepared wasabi paste (more if you want it spicier)
1 tbsp. fresh lemon juice
1 tbsp. fresh lime juice
1 tsp. fresh lime and/or lemon zest
1 clove garlic, finely minced
Directions
In blender, add all aioli ingredients and blend until smooth and creamy. You can also add ingredients to a small bowl and whisk well to combine. Set aside.
Preheat a well-seasoned cast iron grill pan or cast iron skillet over high heat. Add 1 tablespoon melted ghee.
Pat dry tuna loins. Cut into medallions with a very sharp knife. Slicing while still frozen will make cutting the loin much easier. Lightly coat each medallion with a very thin layer of melted ghee. Season with sea salt and black pepper.
Sear seasoned albacore tuna medallions in the preheated pan, 1 minute on each side (2 minutes if you want it less rare). Remove from pan, brush with a small amount of toasted sesame seed oil, and season to taste with sea salt and black pepper. Serve with wasabi citrus aioli, fresh scallions, a pinch of red pepper flakes, and, if you'd like, fresh lime juice and a bit of soy sauce. Slice tuna loins crosswise into ⅓″ slices with a very sharp (serrated works well) knife.
Serves approximately 4