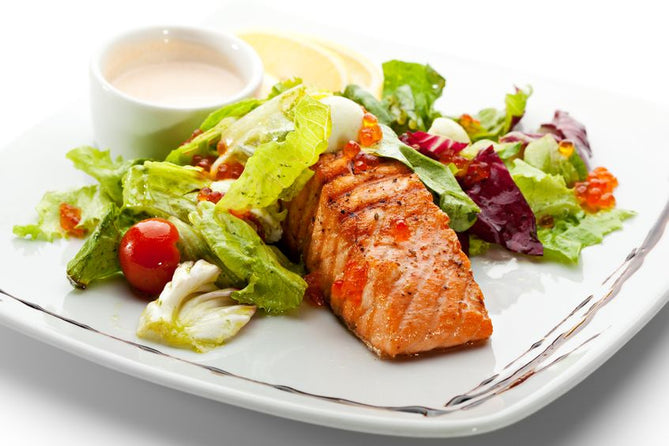 Note: Adapted from Thyme Cafe & Market and Noelle Carter of the LA Times. See other salmon recipes here.
Ingredients
3 red bell peppers, roasted, peeled and seeded (about 2 cups)
2/3 cup toasted hazelnuts, chopped
1 clove garlic, chopped, more to taste
Zest and juice of 1 lemon, or to taste
1 tsp. apple cider vinegar
1/4 tsp salt, more to taste
Freshly ground black pepper
1/2 cup olive oil, more or less to taste, plus more for drizzling over the salmon
1/4 to 1/3 cup chopped chives
4 (6-ounce) Alaska Gold coho salmon portions
Directions
In a blender, combine bell peppers, hazelnuts, garlic, lemon zest and juice, cider vinegar, salt, and several grinds of black pepper. Pulse to combine. With blender running, drizzle in olive oil to emulsify and form the pesto. Taste, adjusting seasoning and flavoring as desired. Adjust the thickness of the pesto as needed with additional olive oil. This makes a generous 2 cups pesto, more than is needed for the remainder of the recipe. Any leftover pesto can be covered and refrigerated for up to 3 days. Transfer pesto from blender to bowl and stir in chopped chives.
Heat oven to 425 degrees. Place coho salmon portions on a baking sheet lined with parchment paper and drizzle the top of each portion with a dash of oil. Sprinkle a pinch of salt and a few grinds of pepper over each portion. Place salmon portions in oven and roast until cooked through, 15 to 20 minutes.
Plate coho salmon and drizzle each portion with pesto. Serve immediately.
Total time about 1 hour
Serves 4